Honking Horns Hail the Liberation of Mosul From Islamic State
By , , and
10-year plan to rebuild Mosul in place, Iraqi official says

Cost of reconstructing areas under IS as much as $100 billion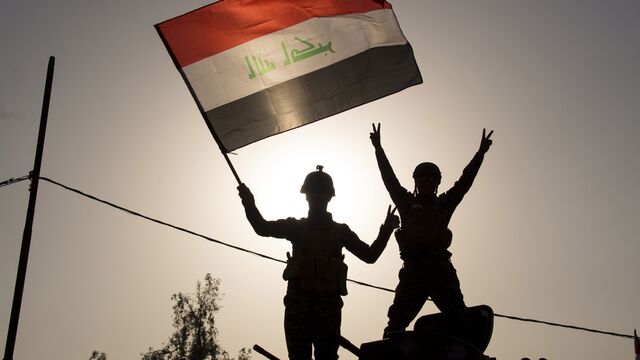 Soldiers cleared explosives from Mosul's historic quarter after its liberation all but ended Islamic State's presence in Iraq, three years of occupation that left a trail of human misery and devastation that could cost $100 billion to rebuild.
Power and water supplies will be restored in the first phase of a 10-year program to rebuild Mosul, much of which was reduced to rubble during nine months of fighting, Planning Ministry spokesman Abdul Zahra Al-Hindawi said by phone on Monday. But in a sign of the immense challenges ahead, he estimated that reconstructing all areas of Iraq that fell to Islamic State would cost at least $50 billion, and maybe double that amount. Iraq wants to hold a donor conference in Kuwait by early next year.
"The government is intensifying efforts to restore life in the destroyed areas," Mudher Saleh, economic adviser to Prime Minister Haider Al-Abadi, said by phone. Islamic State -- which was welcomed in parts of western Iraq as well as Mosul by some Sunni residents angered by economic neglect and mistreatment by security forces -- will look to use any disenchantment once families return to destroyed communities to "incite riots again," he said.
Abadi declared Mosul's liberation in a visit to the ravaged city Sunday. The victory marks a major blow against Islamic State, whose leader Abu Bakr al-Baghdadi made his first speech as self-proclaimed caliph from one of the city's mosques in 2014. The group's ability to attract foreign fighters is also dented, although it continues to inspire militants abroad who have staged terrorist attacks from London to Tehran.
As the major clashes ended, a line of tired civilians filed out of Mosul's Old City on foot, past the carcasses of destroyed apartment blocks lining cratered roads. While Mosul was Islamic State's last main urban center in Iraq, it still controls several areas in the west and northeast of the country, including Hawija near Kirkuk.

Nofal al-Hammad, the governor of Nineveh province, whose capital is Mosul, said Sunday that destruction in the city's west, where the military campaign entered its final phase in mid-June, is 30 times greater than in the east, liberated in January, according to a report by the Rudaw news agency. The United Nations has said as many as 150,000 residents were trapped in the Old City when the battle there began, with illness and disease spreading as clean drinking water, food and medicine ran low.
Saleh, Abadi's adviser, said Iraq would need the help of the U.S.-led coalition that bolstered the war effort against Islamic State, as it rebuilds. "We count a lot on this military alliance that helped Iraq to be an alliance for reconstruction," he said.
The economic challenges facing Abadi's government are massive. Iraq's non-oil sector, which employs the majority of the workforce, shrank in each of the years following Islamic State's takeover of major cities -- with contraction reaching 10.3 percent in 2016, according to the International Monetary Fund. Iraq reached a $5.4 billion loan agreement with the IMF in May last year to help OPEC's second-biggest producer repair public finances damaged by the plunge in oil prices and war with Islamic State. The government has repeatedly said it should be exempt from OPEC's production cuts as it rebuilds its war-torn economy.
Nabeel Khoury, a former U.S. State Department official, said the military plan to defeat Islamic State had been carefully crafted to ensure everyone stuck to their role, and it largely went well. "Now, a comprehensive plan is needed for the aftermath," especially an economic one "to prevent radicalization and to show concern for the people and the city," Khoury said.
Iran Role
Iraq's Shiite dominated government has also been buoyed by assistance from neighboring Iran, which sent powerful militias to join the fight against the Sunni jihadists. That has raised fears of renewed sectarian conflict in a country where the Sunni minority has complained of neglect since the 2003 removal of Saddam Hussein.
"The Sunnis need to feel they're being treated as equal citizens," added Khoury, who is now non-resident senior fellow at the Atlantic Council, a U.S. research organization.
Ali Shamkhani, Ayatollah Ali Khamenei's representative in Iran's Supreme National Council, offered Iranian help for "the displaced and the wounded and for the reconstruction of the cities," according to a report carried by state-run IRNA news agency.
Islamic State evolved from al-Qaeda in Iraq, which U.S. troops and Sunni militias defeated after its powers peaked in 2006 to 2007 in a campaign that was known as the Awakening. It was able to expand in 2013 in Syria, where a civil war has raged for more than six years, attracting fighters from Chechnya, Afghanistan, North Africa and Europe.
The extremists took advantage of the poor military performance of Iraqi troops -- portraying themselves as a champion of Sunni Arabs who felt alienated by a Shiite-led government -- in a lightening assault across northern Iraq in the summer of 2014. The group then headed south toward Baghdad, triggering fears of the country's breakup as ethnic and sectarian tensions surged.
— With assistance by Dana Khraiche, Khalid Al Ansary, Ladane Nasseri, and Zaid Sabah
Before it's here, it's on the Bloomberg Terminal.
LEARN MORE