Five Things You Need to Know to Start Your Day
Get caught up on what's moving markets in Asia.
By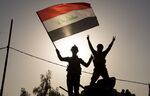 Want to receive this post in your inbox every morning? Sign up here.
Trump's okay G-20, OPEC deal could use some refining, and Kuroda speech on deck. Here are some of the things people in markets are talking about.
19 + 1
It may not have been a great G-20 for U.S. President Donald Trump, but he did make his mark on the summit — most notably, getting language on excess steel production inserted into the official communique. However, other parts of the statement, such as climate, show areas where the U.S. is notably out of step with the rest of G-20 peers. In a chat on the sidelines of the summit, Trump and Chinese President Xi Jinping reportedly discussed different ways of working together to solve the problem of North Korea's escalating nuclear ambitions and missile capabilities.
Output Angst
A decline in U.S. inventories didn't propel oil prices higher last week, as Russia was said to be against larger output reductions to the deal between OPEC and other major producers. But tweaks to that agreement may be necessary to support crude prices, according to some Gulf nations. Kuwait's oil minister suggested that Libya and Nigeria — two nations exempt from the deal to limit production — may be asked to cap their output soon. In addition, Qatar National Bank said the oil market will be oversupplied in 2018 unless the deal to limit production is extended for the entire year rather than just through the first quarter, according to a July 9 report. However, OPEC Secretary General Mohammed Barkindo said compliance with the cuts has increased since May and it's too soon to talk about deeper curbs.
Coming Up…
Bank of Japan Governor Haruhiko Kuroda is slated to speak at a meeting of branch managers in Tokyo on Monday morning on the heels of its action Friday to reassert control over the yield curve. These remarks will follow a smattering of data out the country including May machine orders, current account, and June figures on bank lending. Chinese inflation data due out at 10:30 a.m. Tokyo time will be the region's highest-profile economic release of the day. Headline consumer price inflation is poised to tick up to an annual pace of 1.6 percent in June, with the producer price inflation holding steady at 5.5 percent year on year.
Fiscal Standstill
Senate Republicans still aren't on the same page when it comes to their legislative health-care plans. A pair of GOP senators said the bill advanced by their leadership won't pass, as different factions of the party can't agree on a preferred way to replace the Affordable Care Act. The White House still believes a repeal-and-replace bill will be passed before the August recess or "during" it, according to Chief of Staff Reince Priebus. Meanwhile, Treasury Secretary Steven Mnuchin ruled out the notion of boosting the top tax rate to 40 percent — a proposal reportedly bandied about by Senior Adviser Stephen Bannon.
Mosul Liberated
Iraqi Prime Minister Haider al-Abadi set foot in Mosul declaring a "great victory," with the city free from the Islamic State. Mosul had been one of the jihadist group's most important holdings, and its last urban stronghold in Iraq. The Islamic State is also losing ground in Syria. However, analysts caution that these military losses don't mark the ultimate defeat of the Islamic State's message.
 
What we've been reading
This is what caught our eye over the last 24 hours.
Before it's here, it's on the Bloomberg Terminal.
LEARN MORE