politics
Australian Leader's Ratings Fall Amid Ruling Party Infighting
By
Newspoll shows hit to Turnbull as preferred prime minister

Former leader Abbott is taking aim at government performance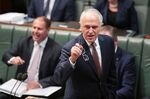 Australian Prime Minister Malcolm Turnbull's personal popularity has dropped as his Liberal-National coalition government is hit by a fresh bout of internal squabbling.
Turnbull's support as preferred prime minister fell three percentage points to 41 percent in a Newspoll published on Monday in The Australian newspaper. His government trails the main Labor opposition by 6 percentage points, putting it at risk of losing an election that is due by 2019.
The survey shows Turnbull's efforts to seek momentum from a populist May budget that boosted funding for schools and hit big banks with a A$6.2 billion ($4.7 billion) levy have failed to pay off. Infighting in the Liberal party has also burst back into public view, with former prime minister Tony Abbott -- who remains a Liberal party lawmaker -- saying last week that conservatives felt "let down" by the government.
That has stoked concerns Australia could return to a period of political upheaval, having already churned through six prime ministers in the past decade. The disorder has distracted successive governments from managing the world's 14th-largest economy. When asked last week in an interview with the Australian Broadcasting Corp. about Abbott's criticisms, Turnbull said he refused to comment "on the gentleman you describe."
Energy Minister Josh Frydenberg, a senior member of the Cabinet, warned on July 6 that opposition leader Bill Shorten was "the one who's benefiting most, unfortunately, from Tony Abbott's constant interventions."
Labor's lead over the government stands at 53 percent to 47 percent on a two-party preferred basis, according the Newspoll, while Shorten's rating as preferred prime minister improved 2 percentage points to 33 percent from a poll three weeks ago.
Shorten's gap with Turnbull, who is due to hold talks in the U.K. with Prime Minister Theresa May this week after attending the Group of 20 summit in Germany, has narrowed to 8 percentage points.
The Newspoll, conducted July 6-9 among 1,597 respondents, has a margin of error of 2.5 percentage points.
Before it's here, it's on the Bloomberg Terminal.
LEARN MORE