Theresa May Handles Tricky Trump Questions by Not Raising Them
By
U.K. prime minister avoids contentious subjects during meeting

Officials say she brought up climate change informally later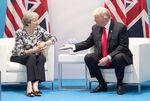 Theresa May had a list of difficult questions to deal with when she sat down with Donald Trump: climate change, his attempt to ban Muslims traveling to the U.S., his attack on London's Mayor. Her strategy was not to raise them.

A meeting between the president and the prime minister on the margins of the Group of 20 summit in Hamburg went longer than scheduled, a U.K. official said, and was dominated by discussions of a free-trade deal between the two countries. But the conversation didn't get to the level of detail where the pair had to discuss sticking points, the official said, asking not to be named because the meeting was private.
Other subjects covered included steel dumping -- they agreed China shouldn't do it -- the cease-fire in Syria -- they agreed humanitarian aid was needed -- and North Korea's missile test -- where they agreed China should apply pressure. The closest they came to discord was over Iran's nuclear deal, which Trump has criticized and where May reiterated the U.K.'s support.
Trump was enthusiastic at the start of the meeting, telling reporters: "We are working on a trade deal, a very, very big deal, a very powerful deal, great for both countries and I think we will have that done very, very quickly." The U.K. official said later the aim was to clear away obstacles so the two countries can sign something as soon as possible after Brexit, the same language that was used when May visited Trump in the White House in January.
May has set out to get as close as possible to Trump since his election, visiting him the week after his inauguration, and inviting him to make a state visit to Britain. The strategy hasn't been universally popular at home. Opposition Labour Party leader Jeremy Corbyn has accused her of being "subservient" to him, and though Trump on Saturday insisted his U.K. visit would happen, no date has yet been agreed, with protests likely if he comes.
Trump sparked international anger earlier in the year when he withdrew the U.S. from the Paris Climate Accords. Though May told him by phone at the time that she disagreed with this decision, she didn't join a letter of protest signed by other European leaders. She also didn't raise it during their meeting. The official said that May had brought it up with the president afterward.
Though the pair discussed the recent terrorist attacks on Britain, the prime minister didn't raise the president's decision to criticize Mayor Sadiq Khan on Twitter in the hours after the London Bridge attack. She also didn't raise the proposed ban on people from some Muslim-majority countries traveling to the U.S., which could hit some British citizens.
Before it's here, it's on the Bloomberg Terminal.
LEARN MORE