Here's What Abe Can Learn From His Flying Visit to Nordics
By and
Japan prime minister in Sweden, Finland and Denmark after G-20

Policies on migration and gender may hold lessons for Japan
Shinzo Abe may draw inspiration from his Nordic hosts to tackle three of his country's biggest problems: chronically slow growth, an aging population and a stubbornly high gender gap (spoiler alert: The solutions are closely related).
The Japanese prime minister is paying visits to Sweden, Finland and Denmark after attending the Group-of-20 summit in Hamburg. It's unclear if any major business will be conducted -- he's just reached a major free trade agreement with the European Union -- but that doesn't make the two-day trip any less interesting.
Population Growth
While in Stockholm, for instance, he may want to take a close look at how Sweden has successfully boosted short-term growth while also laying the groundwork for higher expansion rates in the future. The key is population growth.
Sweden breached the landmark figure of 10 million inhabitants in January, with the total projected to reach 13 million in 2060, according to Statistics Sweden. Japan's population, in contrast, is expected to drop. A young and growing population is key to maintaining a generous welfare state; the number of Swedes aged 65 and above will account for a quarter of the total population by 2060. In Sweden's case, it has also helped boost growth via extra investments, for instance in housing.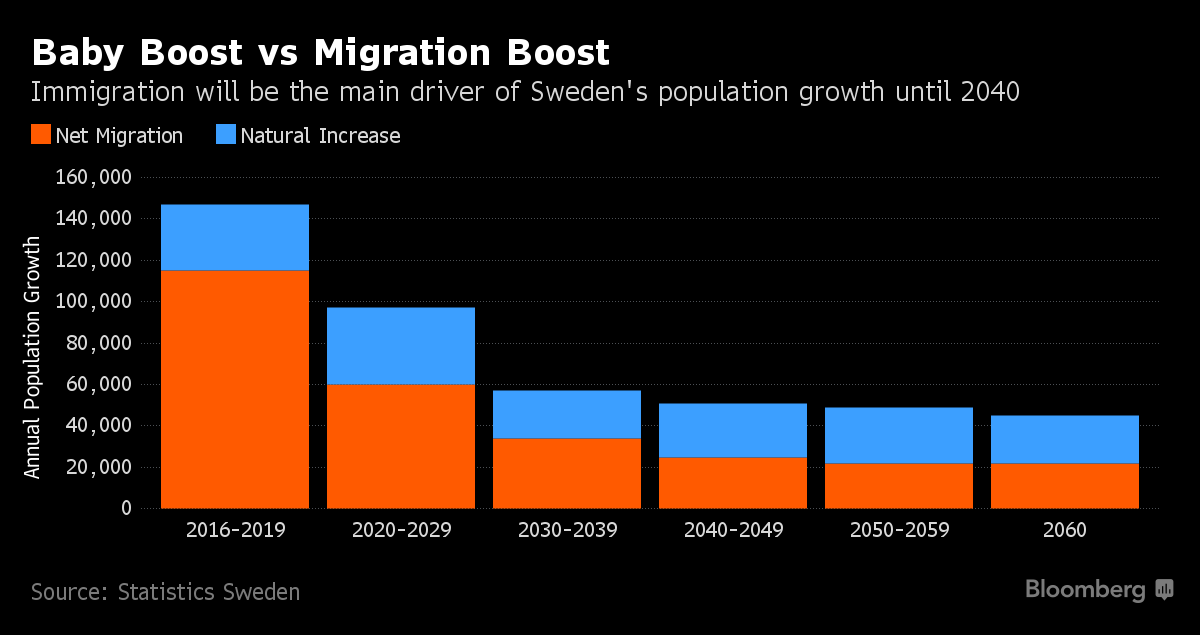 Sweden's growth is fueled by two factors: Immigration (the country received one of the highest proportions of refugees per capita in Europe in 2015) and a birthrate that's one of the highest in the continent.
Gender Equality
One good way of boosting the birthrate in a mature economy is to empower women. On this front, the Nordics are the experts.
| Country | Gender gap (global ranking) |
| --- | --- |
| Finland | 2 |
| Sweden | 4 |
| Denmark | 19 |
| Japan | 111 |
Source: WEF, 2016
"That is one area where we would like to cooperate, on gender-equality issues and strengthening women's position in the labor market," Swedish Prime Minister Stefan Lofven told reporters in Stockholm on Sunday. "They need more people in the workforce to be able to handle the demographic situation."
Abe's stop in Helsinki would also be a good place from which to steal some ideas on how to reduce the gender gap: Finland ranks second in the World Economic Forum's Global Gender Gap Index while Japan is closer to the bottom. Of Finland, the WEF says it has "fully closed the gender gap" on education and health and is the global runner-up in terms of political empowerment.
While in Copenhagen, Abe may want to reflect on the fact that Denmark is stuck at sub-2 percent growth rates for the foreseeable future. Two reasons are being put forward for that: A slowdown in its pursuit of full gender equality and a tightening of immigration laws that has left the country short of skilled workers.
Before it's here, it's on the Bloomberg Terminal.
LEARN MORE