markets
Yellen's Bet on Pulling Workers Back to the Labor Force Is Paying Off
By and
People are flowing en masse from out-of-labor-force to jobs

Shadow slack may be factor holding down wage gains, inflation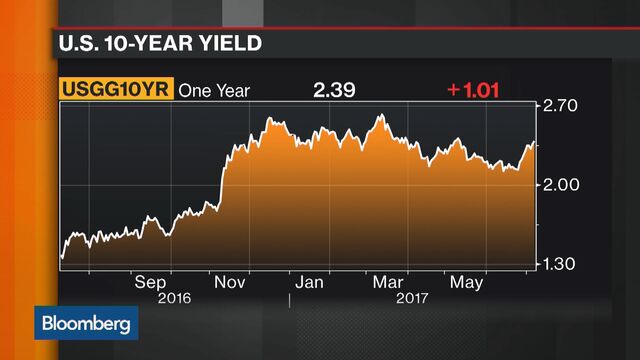 Even as U.S. unemployment crept lower in recent years, Federal Reserve Chair Janet Yellen stuck with a glacial pace of policy tightening that she justified with a powerful message: there were still millions of potential workers to pull in from the labor market's sidelines.
The latest news from the labor market is proving her right.
While June's U.S. payroll report keeps the central bank on track to raise rates once more this year and begin unwinding its $4.5 trillion balance sheet, it also suggests that Yellen's decision to hold interest rates lower than some critics and colleagues preferred has helped heal some of the harm done by the Great Recession.
Her goal was to foster a sustained recovery that would help to draw Americans who had dropped out of the labor force back into employment. This was a gamble. If workers hadn't come back, the strategy could have spurred an overly-tight labor market that sent wages and inflation up too quickly. That in turn could have forced the Fed to raise rates more aggressively and put the recovery at risk.
But come back they have. The flow of people moving from outside of the labor force straight into jobs jumped in June to 4.7 million, its highest level in records that go back to 1990. Labor force participation has stabilized after a long-run decline, and the share of the population that works continues to rise moderately. And as long-hidden labor market slack gets absorbed, it could be helping to keep wage gains modest and inflation in check.
The surge of job holders coming from outside the labor force "speaks to the reduction in slack in the labor force," said Tom Simons, a senior economist at Jefferies LLC in New York. "For the Fed this is a very encouraging sign and fits the narrative that they're going to continue on with their normalization plan."

Yellen, who argues that strong hiring will feed through to higher wages and price pressures in time, can explain her labor-market views further when she delivers semi-annual testimony to Congress next week.
She said in October 2016 that "a tight labor market might draw in potential workers who would otherwise sit on the sidelines," noting that it was possible that "strong economic conditions can partially reverse supply-side damage after it has occurred."
'Reasonably Close'
More recently, she and her colleagues have said that they're closing in on full employment, and she's tiptoed closer to suggesting that slack has been absorbed, though she never declared total victory. She said in January that the labor market was "reasonably close" to the committee's maximum employment objective, for instance, and that the cyclical element of participation declines had "largely" disappeared.
The latest data could vindicate the idea that potential workers may have been lingering on the sidelines. The Fed has lifted rates only slowly, and the effect on the economy has been limited as financial conditions remain easy. Against that backdrop, employers continue to hire rapidly, taking on 222,000 new workers last month.
It seems they've finally scraped bottom when it comes to people who are actively applying to jobs and thus classed as unemployed. Unemployment was 4.4 percent in June, up from a 16-year low of 4.3 percent the month before, and the share of people moving from unemployment to jobs has moved lower.
As that has happened, employers have begun to tap sidelined labor pools. The shift has helped to stabilize -- and now slightly lift -- the labor force participation rate, which measures what share of the population is working or looking for a job. That's an especially sweet accomplishment for the Fed because it flies in the face of demographic trends, which should be weighing the rate down.

The flattening is "consistent with an overall picture of improving labor market conditions," the Fed said in its Monetary Policy Report to Congress, released Friday in Washington.

Still, it's worth noting that labor flows data are volatile, and the pop in June doesn't necessarily portend a sustained trend where people move back from the sidelines.
"Because it is so choppy, you want to be careful about looking at the month itself," said Omair Sharif, senior U.S. economist at Societe Generale. "This idea that, oh, we're pulling in all these workers from the sidelines -- I don't think that's the case."
Meanwhile pay has been slow to accelerate, even though employers report shortages in workers across many industries. If there's a hidden slice of the workforce willing to take positions even though they're not actively seeking them, that could be one factor allowing companies to keep pay hikes moderate.
"It's hard bringing people back in, but it seems like it's happening," said Raymond Stone, managing director at Stone & McCarthy Research Associates in Princeton, New Jersey.
— With assistance by Craig Torres
Before it's here, it's on the Bloomberg Terminal.
LEARN MORE