U.S. Unveils New Syria Cease-Fire After Trump Meets Putin
By and
People are 'weary of conflict,' Tillerson tells reporters

First meeting between Trump, Putin lasted more than two hours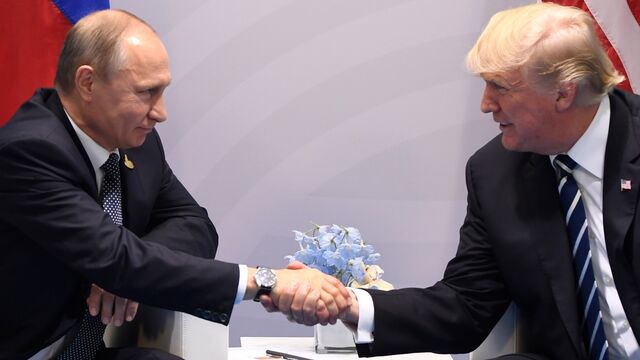 U.S. President Donald Trump and Russian President Vladimir Putin agreed to impose a new cease-fire in southwest Syria in a bid toward resolving that nation's intractable civil war, trying again to cooperate in an area where the two countries have repeatedly failed.
Speaking after Trump and Putin met at the Group of 20 summit in Hamburg, Germany, on Friday, Secretary of State Rex Tillerson portrayed the truce as a first step toward broader cooperation with Russia in Syria, as Islamic State faces defeat. The agreement goes into effect July 9.
"People are getting tired, they're getting weary of conflict and I think we have an opportunity, we hope, to create the conditions -- and this area in the south is our first show of success," Tillerson told reporters in Hamburg. "We're hoping we can replicate that elsewhere."
Tillerson reiterated the U.S. belief that Syrian President Bashar al-Assad should not be part of the country's political future, a key sticking point with Russia in the past. It was Russia's intervention in late 2015 that shored up Assad's regime and enabled it to regain territory from jihadists and other rebels.
Despite the optimism emerging from the Hamburg meeting, recent history has shown how hard it is to make a truce in Syria stick. President Barack Obama's administration announced a cease-fire agreement last year with Putin's government. That plan collapsed almost immediately in the wake of a U.S.-led coalition airstrike that killed about 60 Syrian soldiers -- which the Americans said was accidental -- and a subsequent Syrian attack on a humanitarian aid convoy.
For a QuickTake on the difficulty of resolving Syria's civil war, click here
Many of the details of the cease-fire haven't been hammered out, including which country's troops will monitor the agreement, according to a senior State Department official who briefed reporters after the announcement. That contradicted Russian Foreign Minister Sergei Lavrov, who told reporters that Russian military police would do the job.
The official, who asked not to be identified, said Russia had indicated Syrian's government was willing to go along with the deal.
Previous disputes between the U.S. and Russia since Trump took office have led to breakdowns in communication over the two countries' use of force in Syria. Trump's decision in April to launch a cruise missile attack on a Syrian air base following a chemical weapons attack blamed on Assad's forces infuriated Moscow, as did a later U.S. shoot-down of a Syrian fighter jet.
In addition, the 6 1/2-year-old civil war has transformed into one of the most complex battlefields in modern history, populated with Islamic State militants, Kurdish fighters, other armed opposition groups of various stripes, and military forces from Russia, Turkey, Iran, and the U.S. An estimated 470,000 people, including 55,000 children, have been killed, according to the Syrian Network for Human Rights.
Tillerson said he believed this cease-fire will succeed where others failed because the war against Islamic State is winding down and all sides are thinking more about Syria's future.
'See What Happens'
He only briefly mentioned the myriad, fractured opposition groups that are battling Assad for control across the country. It was the chaos sparked by that conflict that allowed the Islamic State to take root in Syria, and the sides haven't made any progress toward talks on resolving the country's political future.
"We'll see what happens as to the ability to hold the cease-fire but I think part of what's different is where we are relative to the whole war against ISIS, where we are in terms of the opposition's position," Tillerson said.
The Hamburg meeting comes at a low point in recent U.S.-Russia relations, amid a federal investigation and congressional probes into Russian interference in last year's American presidential elections. Those probes have spawned related inquiries into connections between the Trump campaign and White House officials and Russians.
"The agreements reached during the meeting on the de-escalation zones give hope that there can be more steps to join our effort in Syria," said Viktor Ozerov, chairman of the defense committee in the upper house of Russia's parliament, according to the state-run RIA Novosti news agency. "This shows the high level of trust between the parties."
Refugee Flows
The cease-fire deal would allow Trump to say that he worked toward a positive outcome with Putin, even as many other thorny issues remain on the table -- not least the U.S. sanctions against Russia over its intervention in Ukraine.
Then-U.S. Secretary of State John Kerry and Russian counterpart Lavrov had negotiated last year's truce as a first step toward collaboration in stamping out Islamic State in Syria, ending the civil war and stemming the exodus of refugees.
Trump's team went into Friday's closely watched meeting with a similar goal. The talks with Putin, slated to last about a half-hour, eventually ended after about two hours and 15 minutes.
— With assistance by Gregory White
Before it's here, it's on the Bloomberg Terminal.
LEARN MORE