U.S. Stocks Advance After Jobs Data as Tech Shares Lead S&P 500
By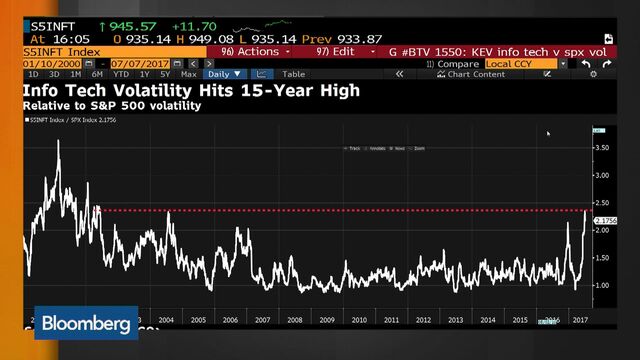 U.S. indexes advanced following economic data on the labor market and the first official meeting between Donald Trump and Vladimir Putin as the Group of 20 leaders meet in Hamburg.
The S&P 500 added 0.3 percent to 2,416 at 9:45 a.m. in New York, after the underlying index closed at a six-week low on Thursday, when real estate stocks had their biggest year-to-date decline. The Dow Jones Industrial Average added 38 points to 21,360.

Tech shares up 1% on gains in AMD, Lam Research and Applied Materials
Staples, telecom and utility shares little changed
10-year Treasury yield up 2 bps
VIX down to 11.8
Volume in S&P 500 about 20% below 30-day average at this time
Energy stocks down 0.6% for worst decline in the market

Oil fell in New York and headed for a weekly loss, as a decline in U.S. crude stockpiles failed to convince investors that global markets are re-balancing.

POLITICS:

Hackers working for a foreign government recently breached at least a dozen U.S. power plants, including the Wolf Creek nuclear facility in Kansas, according to current and former U.S. officials'
President Donald Trump said today that Mexico should "absolutely" pay for his proposed border wall as he sat down with Mexico's President Enrique Pena Nieto at the Group of 20 summit in Hamburg
Trump and Putin shook hands at the start of the summit, and their foreign-policy chiefs -- Secretary of State Rex Tillerson and Foreign Minister Sergei Lavrov -- met for an hour on the sidelines of the summit today. Trump and Putin are scheduled to sit down at 3:45 p.m. local time in Hamburg

ECONOMY:

U.S. hiring picked up in June while wage gains disappointed yet again, a mix that may continue to be a puzzle for the economy and policy makers, Labor Department figures showed Friday
Payrolls rose 222k (est. 178k); April-May revisions added 47k jobs
Unemployment rate, derived from a separate survey of households, rose to 4.4% (est. 4.3%) from 16-year low of 4.3%
Average hourly earnings rose by 0.2% m/m (est. 0.3% rise); up 2.5% y/y (est. 2.6%)

EARNINGS: none
For more equity market news:
Quotes from this Article
Before it's here, it's on the Bloomberg Terminal.
LEARN MORE