U.S. Jobs Market Under Trump Looks a Lot Like It Did Under Obama
By
Payroll, wage gains mirror those of former president

Economy still growing at 2 percent clip that Trump derided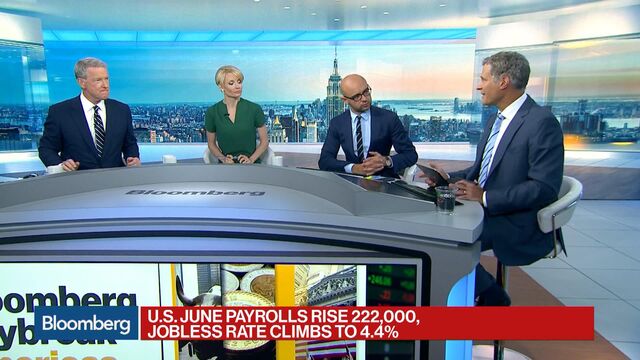 In spite of Friday's strong jobs report, there's been no Trump bump in the labor market since the new president took office in January.
In fact, the employment situation in the first six months of Donald Trump's tenure looks a lot like the one that prevailed toward the end of Barack Obama's. Payrolls are growing solidly and unemployment is falling, yet wage gains remain lackluster.

The numbers tell the tale. Employers have added an average of 180,000 workers per month to their payrolls in the first half of this year, in line with 2016's 187,000 pace. Joblessness has fallen further, to 4.4 percent in June from 4.7 percent at the end of last year and 5 percent in December 2015. And average hourly earnings have risen at an average year-on-year pace of 2.6 percent, smack dab in line with 2016.
"The labor market is continuing to chug along at a decent clip," said Nariman Behravesh, chief economist for consulting firm IHS Inc. "There is very little, if any, Trump impact."
Pence Tweet
That didn't stop administration officials from crowing about the latest jobs numbers, which showed payrolls rising 222,000 last month, the biggest increase since February.
"Trump has been rolling back federal regulations and cutting red tape," Vice President Mike Pence said in a Tweet that included a news report on the jobs numbers. "His agenda continues to strengthen our economy."
There has been a tick-up in jobs in coal mining -- one of the industries that Trump has targeted for regulatory relief -- yet the gain has been minuscule, just over 2,000 since a low point in August of last year.
Trump spokesman Sean Spicer retweeted a newspaper article about a record 153,168,000 Americans working in June. One small problem: A new record is set virtually every month so long as gross domestic product continues to grow.
General Economy
Looking at the economy as a whole, the story is much the same as the jobs market. While Trump's election did lead to a burst of consumer and business confidence, the increased optimism hasn't translated into a marked increase in output.
If growth clocks in at annualized 2.7 percent in the second quarter -- as the Federal Reserve Bank of Atlanta's data tracker now estimates -- that would bring the first half average to around 2 percent. That's been about the pace since the recovery began in the middle of 2009 -- a performance that Trump frequently derided during the presidential campaign.
"By and large, things are not dramatically different from what they were in 2016 and in 2015," said Stephen Stanley, chief economist at Amherst Pierpont Securities.
— With assistance by Daniel Flatley
Before it's here, it's on the Bloomberg Terminal.
LEARN MORE