Trump's Best Moments Meeting World Leaders
Here are the most memorable of the president's encounters with his peers. Who could forget the orb?
By
The first look at President Donald Trump's long-awaited handshake with Russian President Vladimir Putin at the Group of 20 summit in Hamburg came from a video posted on a German government Facebook page. It showed the two leaders casually greeting each other on Friday morning while standing around a table, with other world leaders milling about.
Trump extends his right hand, grasps Putin's, then uses his left hand to pat the bottom of Putin's arm. Quite conventional, compared with the other scenes that have come out of meetings in his rookie year.

President Trump's first encounter with Putin came after months of fevered discussion in Washington about Russian meddling in the U.S. election. But in the brief clip, Trump looks at ease. He's had plenty of practice in the nearly six months since taking office, and not all of the interactions have gone as smoothly.
Here's a look back at some of his most memorable first encounters with his peers at the helm of some of the world's biggest powers.
January 2017: Trump holds hands with Theresa May

Trump's first in-person meeting with a foreign leader came on Jan. 27, shortly after his inauguration. British Prime Minister Theresa May flew to Washington in a bid to cement the U.K.'s "special relationship" with the U.S. One of the most-talked about moments came when they were photographed holding hands as they walked through the White House grounds. A U.K. newspaper later claimed she did so because the U.S. president had a fear of slopes or stairs, which the White House said was absurd.
March 2017: Trump ignores Angela Merkel

When Trump first met the German chancellor in March, in Washington, it was billed as a meeting that would test the power dynamic between two of the West's most powerful leaders. One moment in the Oval Office stood out: When Merkel suggested the two shake hands for the cameras, Trump was unresponsive. A spokesperson said the U.S. president simply didn't hear Merkel's request.
May 2017: Trump holds an orb with the Saudi king

This was one of the stranger moments to come out of Trump's visit to the Middle East. The backlit orb at the World Center for Countering Extremist Thought caused a stir because it wasn't quite clear what was taking place in a scene that looked straight out of a sci-fi movie.
May 2017: France's newly elected president takes control

By the time Trump met new French President Emmanuel Macron in May, his tendency for awkward handshake moments was already a thing, and the world's photographers were at the ready. But Macron appeared to have his own tactic, wrapping his hand around Trump's and seemingly refusing to let go.
May 2017: Trump shoves a world leader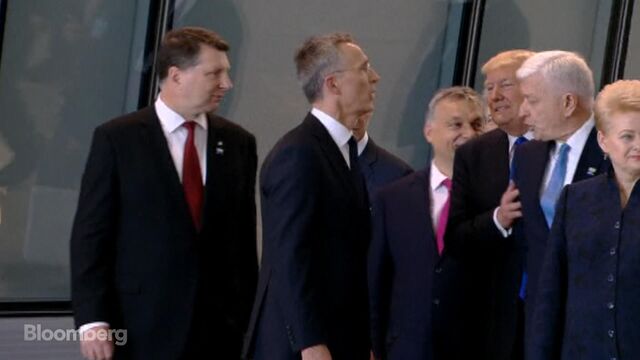 One day after the Macron handshake, Trump lightly pushed aside Montenegrin Prime Minister Dusko Markovic at a NATO summit to get to the front of the pack, apparently to take center-stage in a picture of leaders. The footage quickly went viral, though it didn't go down well at home for Markovic. One local newspaper said that Trump wanted to "show who's in charge."
July 2017: Trump goes to Poland, and the Internet says he was snubbed
The U.S. president traveled to Poland before attending the G-20 summit in Hamburg, prompting another viral handshake moment when footage emerged of Polish First Lady Agata Kornhauser-Duda moving past Trump's outstretched arm to shake hands with her counterpart Melania Trump. Critics full of schadenfreude gleefully called it a snub, but others said it was a willful misreading of the situation. A full clip showed that the pair had already shaken hands earlier in the ceremony.
Full Coverage from the G-20 in Hamburg
Before it's here, it's on the Bloomberg Terminal.
LEARN MORE