Trump, Putin Emerge from Two-Hour Meeting With Syria Cease-Fire
By , , and
Trump raised election meddling to Putin, who denied it

Past Syria cease-fire agreements have collapsed quickly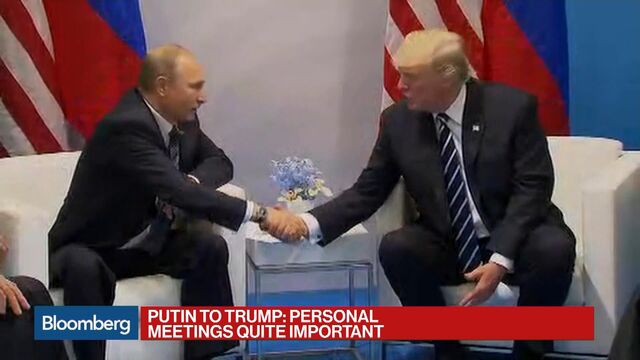 President Donald Trump and Russian President Vladimir Putin stretched their first-ever meeting beyond the two-hour mark and emerged with an agreement for a cease-fire in southwest Syria in the hopes of finding a path to resolve that nation's punishing civil war.
"A cease-fire has been entered into," U.S. Secretary of State Rex Tillerson told reporters in Hamburg, the site of the Group of 20 summit where Trump and Putin met. This is the "first indication of the U.S. and Russia being able to work together in Syria," he said.
But it's much harder to make such a cease-fire in Syria stick, as the U.S. and Russia know from recent experience. President Barack Obama's administration announced one last year with Putin's government, but it collapsed almost immediately in the wake of a Syrian attack on a humanitarian aid convoy.
Tillerson also said that Trump raised the issue of Russia's meddling in the 2016 presidential election -- after weeks in which the White House could not confirm that Trump would bring it up. Putin denied the allegation, as he has repeatedly in the past, Tillerson said.
As to what actually happened in 2016 elections, it may be an "intractible disagreement at this point," Tillerson said.
The meeting comes at a low point in recent U.S.-Russia relations, amid a federal investigation and congressional probes into Russian interference in last year's U.S. presidential elections. Those probes have spawned related inquiries into connections between Trump campaign and White House officials and Russians.
Trump came to office hoping to forge closer ties with Russia as a way to gain Putin's help in stopping Islamic State, and in standing up to Iran. The investigations have largely sidelined those plans, as Trump could not be seen as being too close to Putin while U.S. intelligence services said Putin actually made moves designed to help Trump get elected.
The cease-fire deal would allow Trump to say that he worked toward a positive outcome with Putin, even as many more thorny issues remain on the table -- not least of which are the U.S. sanctions against Russia over its invasion of Ukraine.
Then-U.S. Secretary of State John Kerry and Russian Foreign Minister Sergei Lavrov had negotiated the cease-fire as a first step in finding a way for the U.S. and Russia to do more to stamp out Islamic State in Syria, end the civil war and stem the flow of refugees across the border. Lavrov attended today's meeting of the two leaders, as did Tillerson.
Trump's team went into the closely watched meeting with Putin with much the same goal, hoping to use the sit-down to move forward on ending hostilities in Syria -- and clearing the way for a renewed emphasis on fighting Islamic state and other extremist forces there.
The meeting started cordially, with Putin saying that he was eager to have face-to-face conversations with the American president in place of their customary phone calls.
The meeting was originally slated for about a half-hour but ended after about two hours and 15 minutes. The session had big repercussions for Trump's political standing at home and security around the world in hot-spots from Syria to Ukraine.
"President Putin and I have been discussing various things. I think it's going very well," Trump said as the meeting began at the Group of 20 Summit in Germany. "We look forward to a lot of positive things happening, for Russia, for the United States and for everybody concerned," Trump said, telling Putin, "It's an honor to be with you."
The Russian president addressed Trump as "your Excellency, Mr. President" and noted that the two men have spoken by phone several times. "But phone conversation is never enough definitely," Putin said.
"I'm delighted to be able to meet you personally, Mr. President, and as you have said, I hope our meeting will yield positive results," Putin said.
Trump and Putin had shaken hands hours earlier at the start of the summit in Hamburg, Germany, and the U.S. president said in a tweet: "I look forward to all meetings today with world leaders, including my meeting with Vladimir Putin. Much to discuss."
In fact heading into Friday's meeting, the U.S. president used a speech in Warsaw to take Russia to task for "destabilizing behavior" and urged Putin's regime stop supporting "hostile regimes" in Iran and Syria.
— With assistance by Justin Sink, and Ilya Arkhipov
Before it's here, it's on the Bloomberg Terminal.
LEARN MORE