business
Sweden Opens $155 Billion in Pension Cash to Greater Risks
By
AP fund system to be allowed to invest more in private equity

Rules cut minimum safe bond requirement to 20% from 30%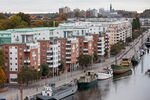 Sweden's $155 billion AP pension system was given the go ahead to cut its bond holdings and invest more in private equity in a bid to boost returns and safeguard retirement funds.
The new rules for AP1, AP2, AP3 and AP4 will require the funds to hold 20 percent of their assets in the safest bonds, down from 30 percent, the Finance Ministry said in a statement Friday. The proposal also does away with a 5 percent limit for non-listed investments and puts in place a cap on "illiquid" investments at 40 percent of their portfolios.
"This will increase the possibility for good returns and good pensions, especially considering the current low interest rates," the ministry said.
The AP funds together manage about 1.3 trillion kronor ($155 billion) and have had a return of 5.6 percent per year since 2001, according to the government.
The proposal also does away with a requirement that at least 10 percent of their assets are managed externally. The rules call for responsible and sustainable investments without impacting the demand to deliver high returns, according to the law.
The changes, which will go into effect in July next year, are part of a bipartisan agreement in parliament, the government said.
(
Adds details on proposal in second and fifth paragraphs.
)
Before it's here, it's on the Bloomberg Terminal.
LEARN MORE