Poloz Rate Hike No Threat to Consumer Debt Amid Record Binge
By
Bonds tied to credit cards and mortgages have outperformed

Canadians have good payment history despite record debt levels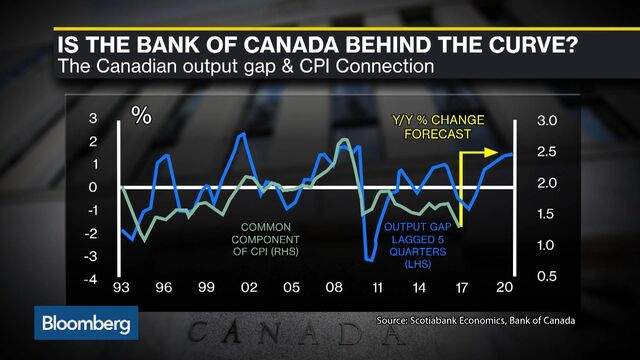 Canada's first interest-rate increase in seven years poses little risk to the market backed by a record binge in consumer debt.
Securities that bundle credit cards, mortgages, and home equity lines of credit, as well as unsecured bonds issued by auto companies, have seen the least erosion of their value compared with other debt since the Bank of Canada signaled tightening may come as early as next week. Investors are seeking safety from rising government bonds yields in short-dated structured credit that has the added safety of being backed by an asset, according to Mark Carpani, a money manager at Ridgewood Capital Asset Management, which oversees C$1.1 billion ($850 million) in assets including credit-card ABS.
Part of the confidence stems from the notes' top credit rating, underpinned by Canadians' history of paying off their debts. The rest comes from the size of the C$2 trillion debt pile, which could keep Governor Stephen Poloz from tightening too steeply.
"It would take a number of hikes before you started to feel that pinch," Carpani said by phone from Toronto. "High debt levels are a concern for sure, which is why I don't think the Bank of Canada will raise as much or as long compared to prior cycles."

Poloz would be wary of choking growth and job creation. While Canada's economy is expanding at the fastest pace among developed markets, its citizens have binged on cheap credit to purchase big-ticket items like homes and cars, pushing the ratio of household debt to disposable income to nearly 170 percent. So any increase in borrowing costs will eventually make it more expensive for Canadians to pay interest on the C$1.5 trillion in mortgage credit and C$581 billion in consumer credit they have racked up.
The metric to watch is the unemployment rate, which would indicate trouble if it rises by one or two percentage points from the current 6.5 percent, Michael Gregory, deputy chief economist at Bank of Montreal's BMO Capital Markets unit, said by phone from Toronto. That seems far away for now. Employment rose by about 103,000 between April and June, or by 0.6 percent, the largest quarterly gain since 2010. Canada's 10-year bond yield touched 1.89 percent, its highest level in two years.
"Any increase in interest rates, no matter how small, is going to have some impact in terms of people feeling they have to start changing their behaviors," Gregory said. "But unemployment has to move up meaningfully in order to create the massive financial stress."

The perceived safety of Canadian ABS is also reflected in their yield spreads. The AAA rated securities are priced similar to deposit notes, one of the safest non-government assets in the country. Five-year credit card ABS, for instance, had a yield spread of 86 basis points over government debt in the first half of the year compared to 75 basis points for bank deposit notes, according to a RBC Capital Markets report.
Canadians have shown that they are trustworthy borrowers, partly due to strict regulations that allow banks to push for recovery of mortgages. Delinquencies and defaults are at record lows, according to S&P Global Ratings. While credit cards have an annualized charge-off rate around 3.3 percent -- an indicator of debts gone bad -- the company stress tests portfolios to make sure that investors will get paid even if this rate rises to 22 percent.
In the event that Canadian borrowers find themselves unable to pay interest on their debt, they're likely to stop paying their credit card or auto loan first but will continue to pay their mortgage because it is their most important asset, said Sanjay Narine, a structured finance analyst at S&P, making that segment of the market relatively safer. Mortgage credit and HELOCs have contributed to 90 percent of household debt growth, according to the Bank of Canada.
"Canadians will make their payments," Narine said. "The full recourse where you can't walk away from your debt, it's a very motivating factor to ensure you satisfy your obligations."
— With assistance by Erik Hertzberg
Quotes from this Article
Before it's here, it's on the Bloomberg Terminal.
LEARN MORE