Platt's BlueCrest Backs Ex-SocGen Trader With $300 Million
By and
BlueCrest is sole investor in Maxime Kahn's 111 Capital

Kahn headed proprietary trading at Societe Generale until 2013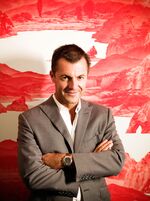 BlueCrest Capital Management LLP, the investment firm run by billionaire Michael Platt, is putting $300 million into a new hedge fund set up by Maxime Kahn, the former head of proprietary trading at Societe Generale SA.
Kahn's Paris-based fund, 111 Capital, will start trading with the money in August or September and invest in stocks and derivatives, he said in an interview. He won't begin looking for other outside investors for at least 18 months, he said.
"For now, we don't want to spend time on the road, we want to spend time in the office generating alpha," said Kahn, using a hedge fund industry reference for outperforming the market. "This allows us to focus on what we do best. Once we have a track record, then we can spend time on the road."
The backing from Platt, 48, is a boost at a time when new hedge funds are generally struggling to raise capital amid a revolt by investors against high fees and mediocre industry performance over the last few years. Kahn, 46, was one of Societe Generale's top executives before leaving last year to start the fund. He joins a slew of former traders who left banks after the financial crisis to manage money on their own, though there are some signs that trend may be reversing.
To read more on traders returning to banks, click here.
Until 2013, Kahn oversaw Societe Generale's proprietary trading, the practice of wagering shareholders' cash on market bets. Regulators have sought to restrict or outlaw the practice since the financial crisis, leading to a wave of hedge-fund startups by former prop traders at a time when central bank intervention made it difficult to beat markets.
Last year, more hedge funds shuttered than were started, a trend that continued in the first quarter of 2017, according to data from Hedge Fund Research Inc. Some traders who fled banks for hedge funds are on their way back to Wall Street, including Chris Leonard, who was hired by Barclays Plc last month.

Platt himself was a JPMorgan Chase & Co. trader before setting out on his own with BlueCrest. His firm was once one of the world's biggest hedge fund managers. In 2015, BlueCrest said it would return external capital to investors to focus on managing Platt's wealth and that of his partners.
A spokesman for BlueCrest declined to comment.
Systematica, Kenbelle
BlueCrest has backed other hedge funds before. The firm owned 49 percent of Systematica Investments, a computer-trading fund run by former employee Leda Braga, before reducing its stake in 2015. Platt's firm also backed Kenbelle Capital, a fund set up by famed Wall Street analyst Meredith Whitney, yet later sued to get its investment back after losses. The dispute was eventually resolved.
Kahn's 111 Capital invests in equities and listed derivatives using computer models. "The firm targets pure alpha creation with no market exposure," it says on its website. Equity long/short hedge funds returned about 5 percent on average through June this year, ahead of 3 percent gain in broader industry peers, according to data from Eurekahedge.
Before he left Societe Generale, Kahn had been integrating the Paris-based bank's proprietary traders into its market-making operations. Kahn was also tasked with unraveling the wreckage left by convicted rogue trader Jerome Kerviel, who had caused a record trading loss at the bank. He helped unwind about 50 billion euros of unauthorized bets made by Kerviel, who was convicted in 2010 of abusing the bank's trust and falsifying documents and data.
Before it's here, it's on the Bloomberg Terminal.
LEARN MORE