Motion Sickness Grips Stocks on Eve of a Healthy Earnings Season
By
S&P 500 EPS forecast to grow at half the pace in first quarter

Perfect record of stocks rising during earnings is on the line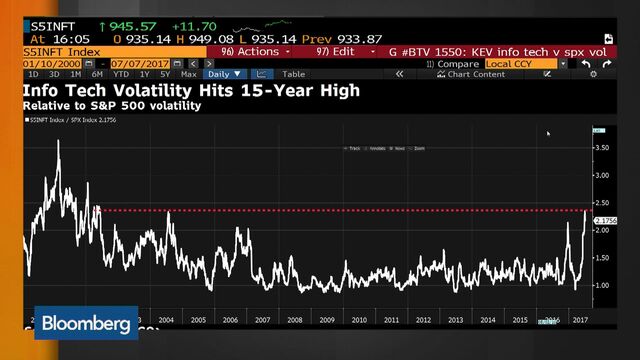 Once again, the U.S. stock market is beset with angst as an earnings season approaches. Curing it has been simple in the past. Getting the medicine to go down this time may prove harder.
It's not that it will be a bad quarter. Barring an unlikely disaster, companies will say profits rose for the fourth straight time, with analysts calling for a 7.4 percent increase over a year earlier. Whether the patient has become resistant to treatment is the real question.
Turbulence has been touching everything from stocks to Treasuries. Tech megacaps as measured by the Nasdaq 100 Index alternated between big gains and losses each day in the holiday-shortened week, while the CBOE Volatility Index hit the highest level since May. Swings in the Nasdaq have averaged almost 1 percent a day since June 9, pushing its 30-day volatility relative to the rest of the market to the highest since 2002.

In the past, earnings have been a reliable antidote. Their arrival each quarter has lifted stocks 100 percent of the time since 2013, and under-estimating the profit machine has been a sure route to impoverishment since the bull market began in 2009. Among investors, however, the sense now is that failure to deliver would have larger consequences.
"We need strong earnings for stocks to stay OK," Bob Doll, chief equity strategist at Nuveen Asset Management, said in an interview on Bloomberg Television.
Volatility has kicked up as central banks from Asia to Europe and the U.S. took a more hawkish stance while seeking to remove nearly a decade of accommodation. After better-than-expected monthly payrolls boosted stocks on Friday, the S&P 500 Index ended the week up 0.1 percent while the Nasdaq 100 added 0.2 percent.

With JPMorgan Chase & Co. and Citigroup Inc. scheduled to announce results next week, the market faces a stretch that for four years has seen consistent equity gains. The S&P 500 has risen in each of the last 18 reporting season, accounting for 90 percent of the advance over the stretch, data compiled by Bloomberg show.
Better-than-expected earnings have contributed to the perfect record by offering investors comfort at times of market turbulence. In the past five years, S&P 500 firms beat estimates by an averaged 3.6 percentage points.
The bar is arguably higher this time. Analysts have been standing firm with their forecasts even as economic data trailed expectations by the most since 2011. Their estimates for earnings growth fell by 1.4 percentage points during the course of second quarter, the smallest reduction in six years.

Even if the rate of company beats matches the historical pace, it would still represent a slowdown from the first quarter, during which earnings jumped 14 percent.
Profit growth weakened in all sectors except for phone-service providers and consumer staples, analyst estimates show. Materials producers are expected to report a 2.4 percent rise, down from 21 percent in the first quarter, as a rebound in commodity prices faded. A trading slowdown and an unexpected decline in Treasury yields may have weighed on results for financial firms. Profit at banks and insurers probably decelerated to 7.4 percent from 17 percent in the January-March period.
While it may be still be too soon to call a trend, early releases are showing promising signs. Among 22 S&P 500 companies that have reported results, profits exceeded estimates by 8.5 percent, data compiled by Bloomberg show.
Sustained a steady level of growth is key to a market whose valuations are approaching the highest since the dot-com era, according to Stephen Wood, chief market strategist for North America at Russell Investments in New York.
"It's reasonable to think that the softness in the economic cycle could transmit through into earnings," Wood said by phone. "In a good but decelerating earnings environment and with the Federal Reserve pulling back on monetary policy, fundamentals are going to be challenged to support these valuations in the U.S. equity market."
Before it's here, it's on the Bloomberg Terminal.
LEARN MORE