China Blasts G-20 Over Trade as Trump and Putin Shake Hands
Ilya Arkhipov, Peter Martin and Raymond Colitt
German chancellor says won't paper over divisions at summit

Trump, Putin to hold first bilateral meeting at 3:45 p.m.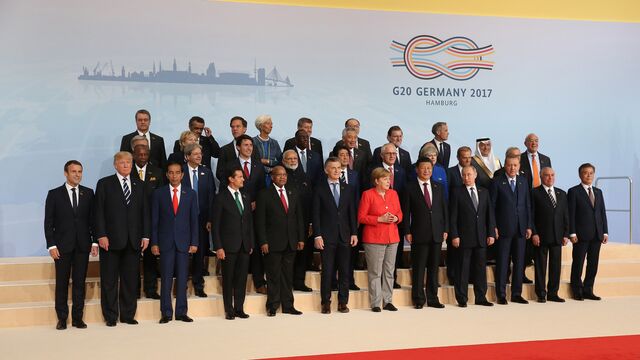 Chinese President Xi Jinping took a swipe at the U.S. for retreating from globalization, exposing the tensions before a meeting of world leaders divided over everything from trade and climate change to handling North Korea's provocations.
As Group of 20 leaders met in Hamburg at the start of one of the most highly-anticipated summits in years, U.S. President Donald Trump and Russia's Vladimir Putin shook hands, a symbolic initial encounter ahead of their first bilateral meeting later Friday.

"I look forward to all meetings today with world leaders, including my meeting with Vladimir Putin," Trump said in a tweet. "Much to discuss."
With police and anti-capitalist protesters clashing across central Hamburg, inside the summit venue Xi slammed unnamed "major" developed nations for stoking geopolitical risks through calls to reverse globalization and return to protectionism. China and others must respond by stepping into the leadership vacuum and pressing for their interests, he said.
"Major developed countries have significantly backtracked positions on trade, climate change and other issues," Xi said before a meeting with fellow leaders from the so-called BRICS group of major developing nations. These developments affect the BRICS nations -- Brazil, Russia, India, China and South Africa -- and reinforce the need to step up coordination "to speak in one voice to steer the world economy in right direction," he said.
Xi's outspoken remarks hint at the difficult task ahead for German Chancellor Angela Merkel as she chairs the two-day G-20 summit, a meeting redolent with tensions that are reshaping global politics as the world adjusts to Trump's election last year. For the first time in decades, the U.S. will be represented by a president who embraces protectionism, forcing Germany and China into an informal alliance pushing the merits of free trade and action against climate change.

"We know that time is of the essence," Merkel told her fellow leaders in a statement at the start of the first official session. "Solutions often can only be found if we're ready for compromise -- but without, let me say it clearly, bending over backwards. We certainly shouldn't shy away from spelling out differences."
G-20 nations have struggled in particular to bridge the divide with the U.S. on climate change after Trump announced he would pull out of the landmark Paris Agreement. Government officials failed to forge consensus on the part of the text dealing with climate, leaving that task to leaders, according to one person who saw a draft of the concluding statement. Another source of strife was U.S. pressure on China to cut its steel output, said a second person familiar with the drafting of the statement.
Participants face a U.S. leader much more unpredictable than his predecessors, which may concern the Chinese as tempers fray on how best to curtail North Korea's nuclear ambitions.
"We won't paper over discord, but rather recognize when there is discord and different views on various topics," Merkel said Thursday.
So far, the summit in the port city has been dominated by clashes between protesters and police. Protesters harried police on Friday, as they tried to disrupt the summit hours after the authorities used water cannon on a group of about 1,000 people seeking to march to the site of the meeting. According to one report, Hamburg police called for urgent backup from across Germany to help deal with the volume of separate incidents.
Read more: The flash points for leaders at the G-20
The summit's official agenda will be dominated by discussions about terrorism, financial regulation, global trade, climate and migration. But the real highlight will be the first meeting between Trump and Putin, which is expected to take place at 3.45 p.m. and last about 30 minutes. The U.S. president's initial months in office have been dominated by the fallout from Russia's meddling in the U.S. election and allegations about collusion between his campaign officials and the Kremlin.

Issues between the nations include Russian sanctions, halting North Korea's nuclear weapons program and managing frictions over Syria and Iran. Amid suspicions of further Russian interference, this time in U.S. power plants, it's still not clear whether Trump will raise the hacking issue.
Russian Foreign Minister Sergei Lavrov and U.S. Secretary of State Rex Tillerson discussed "key international and bilateral" issues during a one-hour meeting on sidelines of the G-20, according to the Foreign Ministry in Moscow.
Both sides played down expectations, portraying the meeting mostly as a chance for the leaders to take the measure of each other. The goal of improved ties has met fierce resistance from some in the Washington establishment.
Trump's meeting with Xi, scheduled for Saturday, is also one to watch. Chinese officials have struck an optimistic tone -- even going so far as to single out the "Art of the Deal" as a book to be read "with respect," in a press conference Thursday. But Xi's latest comments underscore how the friendship struck up with Trump at Mar-a-Lago in April is fraying.
Read more: Flattery meets Art of the Deal as China Braces for Trump
Trump initially backed off campaign threats to declare China a currency manipulator following his shock election victory in November, seeking China's help on North Korea. But he has since shown signs of losing patience as Pyongyang tests missile after missile, including what the U.S. said was its first intercontinental ballistic missile on Tuesday. "So much for China working with us - but we had to give it a try!" Trump said in a tweet Wednesday.
Ultimately, Merkel will have the toughest job at the summit as she tries to steer a path through the divisions to produce a communique everyone can agree on. She is reluctant, for example, for the U.S. to seem too isolated after a G-7 summit in Sicily that was marred by a bitter disagreement between Trump and other leaders over climate change. The president declared his intention to pull out of the Paris Accord just days later.
"I will do all I can to find compromises and answers to the questions that are important for shaping globalization," Merkel told reporters on Thursday. "Naturally climate will also play a role here, and as you can imagine, there will be discussions here that won't be all that easy."
— With assistance by Tony Czuczka, John Fraher, Josh Wingrove, Arne Delfs, Patrick Donahue, John Follain, Gregory Viscusi, Robert Hutton, Margaret Talev, and Toluse Olorunnipa
Before it's here, it's on the Bloomberg Terminal.
LEARN MORE