business
Hungary Commits to Russia Gas Route as Poland Looks to U.S.
By and
Gazprom pipeline is 'only' option, foreign minister says

Hungary subject to double standards on Russia, Szijjarto says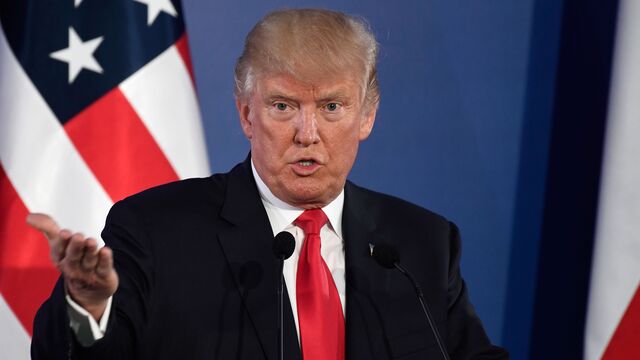 Hungary sees a new pipeline for Russian gas as the "only realistic" step toward energy diversification now, Foreign Minister Peter Szijjarto said on the same day Poland used a visit by U.S. President Donald Trump to announce plans to wean itself off fuel supplies from its Soviet-era master.
Hungary signed an agreement this week with Russian energy giant OAO Gazprom, which is building the Turkish Stream pipeline to carry gas to central Europe via Turkey, Bulgaria and Romania. With the first shipments expected by end-2019, the project offers an alternative to a pipeline that cuts through Ukraine, even if it won't reduce Hungary's reliance on Russia.

"The only realistic option for diversification is to link up with the southern gas corridor," Szijjarto said in an interview in London on Thursday. He said delays by Romania and Croatia to link their networks with Hungary was another reason for siding with the Gazprom project.
Hungary's decision contrasts with Poland, an ally on most issues except Russia. Budapest sees Moscow as a partner, including on energy, while Warsaw views it as a threat. Poland, which has been dependent on Russian gas via links transiting through neighboring Ukraine and Belarus, will sign a long-term agreement with U.S. companies "soon" to import liquefied natural gas, or LNG, President Andrzej Duda said at a briefing with Trump in Warsaw on Thursday. That's part of a plan for Poland to be able to forgo a new contract with Gazprom when an existing one expires in 2022.
Read more about Russia's grip on gas supplies to Europe
Other countries are also diversifying. Trump welcomed Croatia's plans for an LNG terminal on the Adriatic island of Krk, while Lithuania introduced an off-shore vessel to convert the fuel at its port in Klaipeda to replace the 2.7 billion cubic meters it was receiving from Russia every year.
Polish gas distributor Gaz-System called for the "full integration" of gas markets across central and eastern Europe via the expansion of north-south pipelines, after signing a cooperation agreement with Plinacro, Croatia's transmissions system operator, on Friday in Warsaw.

Hungary, for its part, has strengthened energy cooperation with Russia, signing a deal with state-owned Rosatom Corp. in 2014 to expand its sole nuclear power plant.
During his visit to Warsaw, Trump encouraged eastern European leaders worried about their dependence on Russian supplies to buy U.S. gas instead, saying that his country would never use energy to blackmail them. Eastern Europe suffered shortages in 2006 and 2009 after Russia cut off supplies to Ukraine, eastern Europe's key transit state. Kiev also stopped buying Russian gas at the end of 2015 after Putin annexed the Crimean peninsula and stoked unrest in the country's east.
Hungary has pushed for the European Union to open debate into the bloc's sanctions against Russia over Ukraine but has refrained from vetoing them. The country of less than 10 million people isn't alone in trying to expand energy ties with Russia, Szijjarto said, pointing to a project planned by Russia and Germany to build Nord Stream 2, a gas pipeline linking the two countries via the Baltic Sea and circumventing Poland. Warsaw opposes the project out of concern that Russia can cut supplies without affecting deliveries further west.
Most central and eastern European nations relied on Russia for more than 75 percent of their gas consumption last year, according to Eurostat.
'Intense Relations'
"We're always criticized that our Russian relations are too intense because those countries want to divert attention from their own extraordinarily intense relations," Szijjarto said.
Hungary isn't shutting off other options, though. Prime Minister Viktor Orban told state radio on Friday that his country could also access gas coming via Poland after having recently connected its network with its northern neighbor Slovakia.
"Competition is a good thing and we have access to both," Orban said. "We're going to buy the cheapest one."
(
Updates with agreement between Polish and Croatian firms in 6th paragraph.
)
Before it's here, it's on the Bloomberg Terminal.
LEARN MORE