Holdout Group of Forecasters See Poloz Holding Steady Next Week
By
CIBC, TD among minority calling for BoC to remain at 0.5%

Markets assigning 86 percent chance of July 12 increase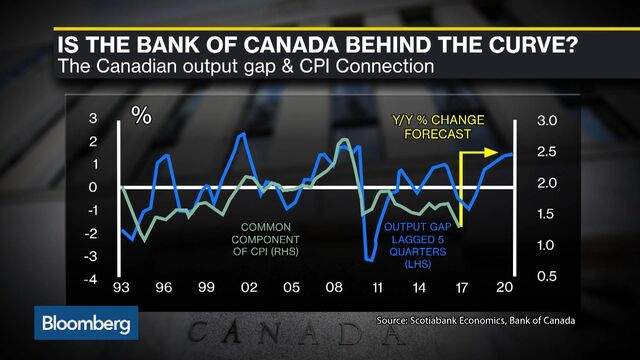 Canada's hawks may be coming home to roost, but a few doves are standing firm.
Fully one-third of forecasters surveyed by Bloomberg, including Canadian Imperial Bank of Commerce and Toronto-Dominion Bank, are sticking to the view that Governor Stephen Poloz will keep the Bank of Canada's key overnight lending rate steady at next week's meeting.
That's in the face of more upbeat messaging from Poloz and his deputies that has traders more or less pricing in a hike next week. Overnight index swaps are assigning an 86 percent probability of an increase at the July 12 meeting. The majority of economists, 16 of 24, also predict the central bank will lift its benchmark rate to 0.75 percent.
The change in consensus has been rapid. A little over a week ago, no economists in the survey expected a rate increase at the July meeting, and a month earlier just two analysts predicted rates would rise at all in 2017.
Sebastien Galy, a macro strategist and Brett Ryan, an economist at Deutsche Bank have been saying since late last year that Poloz would raise rates in October. They don't give much credence to the abrupt shift in sentiment.
"It is a strange world where the market moves from a housing crisis in Canada to a rate hike in a matter of days," New York-based Galy and Ryan wrote Thursday to clients. The title of their note? "It's absurd -- Why would the Bank of Canada hike so soon?"
Firm
Rate Hike in July?
As of June 30th
As of Morning of July 6th
CIBC
No
No
TD
No
No
Deutsche Bank
No
No
Capital Economics
No
No
Standard Chartered
No
No
Macquarie
--
No
Rabobank
--
No
Action
--
No
Scotiabank
Yes
Yes
BMO
Yes
Yes
Royal Bank
Yes
Yes
NBF
Yes
Yes
Desjardins
Yes
Yes
Laurentian
Yes
Yes
Citi
Yes
Yes
BNP Paribas
Yes
Yes
Institute of Fiscal Studies and Democracy
Yes
Yes
Manulife
No
Yes
Moody's
No
Yes
Oxford
--
Yes
Credit Agricole CIB
--
Yes
Bank of America Merrill Lynch
--
Yes
IHS
--
Yes
4CAST
--
Yes
Total (Yes)
9
16
Total (No)
7
8
Source: Bloomberg News
Before it's here, it's on the Bloomberg Terminal.
LEARN MORE