business
Your Evening Briefing
Bloomberg News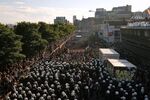 Setting cars on fire and blocking roads, protesters at the G-20 summit in Hamburg have already brought parts of the city to a standstill, with further demonstrations — and more violence — expected. Meanwhile, those attending the event in an official capacity seem keen to keep things cordial, so far. Chinese minister Zhu Guangyao was at pains to make it clear that he and his colleagues "read with respect Mr. Trump's books on the art of the deal and his political views"; the U.S. president's encounter with Poland's first lady might have been slightly awkward, but nobody's nose seemed to be put too far out of joint. That said, the weekend's main events — Trump's meetings with the Russian and Chinese premiers — are still to come. And German Chancellor Angela Merkel, who is chairing the summit, has made it clear that she and her fellow world leaders "won't paper over discord".
Hackers working for a foreign government recently breached at least a dozen U.S. power plants, according to current and former U.S. officials, and the chief suspect is Russia. It's unclear whether President Donald Trump will address the cyberattacks with Russian President Vladimir Putin Friday. Veteran American diplomats and analysts, however, are concerned about a mismatch between a U.S. president new to global affairs and a wily former Soviet spymaster experienced in the long game of strategy and statecraft. Their encounter in Hamburg may set the tone for relations for the next four years.
 
Samsung Electronics reported its best-ever operating profit as global demand for semiconductors remained strong and the new Galaxy S8 flagship smartphone won over customers. The world's largest maker of phones and memory chips is counting on the Galaxy S8 to repair its reputation and regain ground lost to Apple and Chinese rivals following the demise of the Note 7.

The Liaoning sails into Hong Kong's harbor. China's first aircraft carrier made its first port of call outside the mainland since becoming the pride of the nation's budding blue-water fleet in 2012. While the aircraft carrier is among the most impressive symbols of China's rise, its arrival in Hong Kong also underscores the challenges of converting its industrial and military might into soft power. 

A U.S.-led bid to condemn North Korea has broken down. An attempt to broker a United Nations Security Council statement condemning North Korea's latest missile test has failed, according to two officials, a setback for the Trump administration on one of its top foreign policy priorities.

Global warming might be speeding up. Two climate scientists suggest they've come closer to resolving a critical debate about how quickly human activity will heat up the planet. The answer isn't good news. And as G-20 leaders seek to avoid a blowup over America's stance on climate change, German Chancellor Merkel's husband is giving Ivanka and Melania Trump a science lesson.

Rodrigo Duterte has never been more popular, according to a new poll taken on the eve of the first anniversary of his swearing in as Philippine president. The poll appeared to underscore public support for Duterte's handling of the crisis in his home region of Mindanao, where militants linked to Islamic State laid siege to Marawi, the country's largest Muslim-majority city.

If you can't afford a Porsche 911, buy the Mazda MX-5 RF.  It's nowhere near as fast as the 4.5-second 911 Targa, but, then, that one costs nearly $80,000 more. The Mazda will only set you back  $31,555. And, what's not to like with MX-5 RF? Nothing, really.

Before it's here, it's on the Bloomberg Terminal.
LEARN MORE