Calls to Bolster U.S. Ethics Agency Reach Crescendo After Director Quits
By
Shaub announced Thursday he'll resign effective July 19

Public-interest groups seek enforcement powers for OGE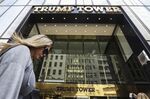 Ethics experts are stepping up calls to strengthen the top U.S. ethics agency after its outspoken director, who criticized President Donald Trump's potential conflicts of interest, announced his resignation.
Public-interest groups have argued for years that the Office of Government Ethics, which establishes standards of conduct for executive branch officials but lacks enforcement powers, should be strengthened. While those calls have increased over the course of the Trump administration, they reached a crescendo Thursday, when Walter Shaub said he would step down on July 19.
Meredith McGehee, chief of policy at public-interest group Issue One, said the departure of Shaub, who used his agency's bully pulpit more aggressively than any predecessors, makes the need for a stronger OGE more urgent.
No matter whom Trump chooses to replace Shaub, "the agency has some built-in weaknesses that should be addressed," McGehee said. "These have been known for many years before President Trump came on the scene."
A key move, according to McGehee, is giving the agency enforcement power. In a June 29 op-ed in The Hill website, she called for giving the director the authority "to conduct investigations, subpoena witnesses, compel production of documents, and issue civil penalties for violations by high-ranking officials."
The White House didn't respond to questions about McGehee's proposal -- though White House spokeswoman Lindsay Walters said Thursday that Trump will nominate a successor to Shaub "in short order." Shaub, who's joining the Washington-based government ethics group Campaign Legal Center, said in a statement Thursday that the current ethics regime needs reform.
'Need Improvements'
"In working with the current administration, it has become clear to me that we need improvements to the existing ethics program," Shaub said.
The agency, which was founded in 1978 in the wake of Watergate, is tasked with guiding presidential appointees and other executive branch officials through compliance with the Ethics in Government Act and interpreting that and other ethics laws. It also certifies the plans that appointees make to reconcile their financial holdings with conflict-of-interest rules -- agreements that frequently require divestitures. The agency also monitors for ethics compliance -- though if there are suspected violations, OGE has to refer the matter to the official's employing agency or to the Department of Justice.
"You're talking about an independent agency, but at the end of the day they have to rely on the agencies and sometimes even the president and the White House when it comes to disciplinary action," said Scott Amey, general counsel of the Project on Government Oversight. Amey has also called for the reforms.
Several ethicists cited the example of Trump adviser Kellyanne Conway, who gave what she described as a "free commercial" for Ivanka Trump's businesses during a media appearance in February, an apparent violation of a federal rule barring public officials from using their positions to promote private business interests. While the OGE recommended that the White House consider disciplinary action against her, it was the White House's decision ultimately.
Conway Counseled
In the end, the White House said it "counseled" Conway over her statement. Shaub said in March that the lack of further discipline "risks undermining the ethics program."
Craig Holman, a lobbyist at Washington-based Public Citizen, said Shaub's departure "places the integrity of the OGE in doubt," and suggested that there may be enough political will in Congress to adopt reforms. "This would be the environment for it," he said, because of ethics issues that have emerged early in Trump's administration, "wrapped up in a pledge by Trump to 'drain the swamp."'
Despite recommendations to divest, Trump retained his ownership interest in his multibillion-dollar businesses. Unlike predecessors, he avoided the use of a blind trust, transferring his assets into a trust overseen by family members and a longtime employee.
Representative Elijah Cummings, the top Democrat on the House Oversight Committee, on Thursday called for the panel's Republican chairman to invite Shaub's testimony on "the lessons he has learned while leading OGE, including the need to implement substantive reforms to ensure government officials can never put private gain above the public that they serve."
Trump Critic
After nearly 13 years at OGE, Shaub, whom some associates described as quiet and bureaucratic, became a high-profile critic of Trump during the transition when he called the incoming president's plan for addressing potential business conflicts "meaningless."
Shaub subsequently pushed back against the administration on what he viewed as pressure to rush conflict-of-interest reviews of the complex financial portfolios held by some Cabinet officials, as well as work by lobbyists in the administration and concerns about ethics enforcement at the White House.
His work sometimes rankled the administration and his actions often brought him into a charged political arena despite what was supposed to be the non-partisan nature of his work.
His request for documentation of waivers for lobbyists working in the administration, for instance, prompted Office of Management and Budget Director Mick Mulvaney to ask Shaub to stop the probe, a request Shaub denied.
Shaub's resignation comes about six months before his term is set to expire in January. It sets the stage for Trump to name a successor to a five-year term, subject to confirmation by the U.S. Senate.
Before it's here, it's on the Bloomberg Terminal.
LEARN MORE