business
Buffett Keeps Building His Energy Unit as Far as the Eye Can See
By
Berkshire EFH deal shows focus on capital-heavy businesses

Analyst: Offer suggests Buffett's confidence in Greg Abel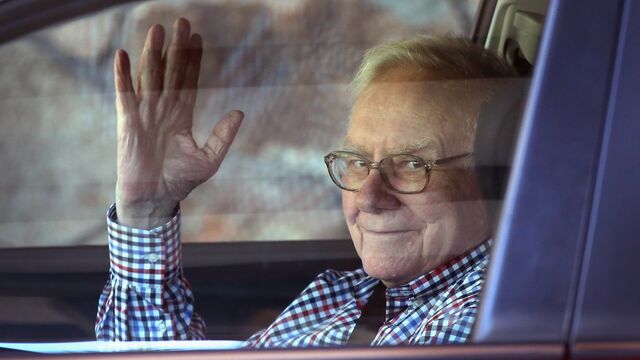 A few months after buying Nevada's largest electric utility, Warren Buffett sat on stage at an industry conference in Las Vegas and told the crowd he was planning to expand Berkshire Hathaway Inc.'s energy business "as far as the eye can see."
That was three years ago. On Friday, he delivered big-time on the pledge by announcing a $9 billion all-cash offer to buy a reorganized Energy Future Holdings Corp., the parent company of Oncor Electric Delivery Co., Texas's largest electricity-transmission operator. That follows massive investments in wind power and other infrastructure in the U.S. and Canada over the past several years.
The latest deal underscores a shift that Buffett, 86, put into motion well over a decade ago at his sprawling conglomerate. When Berkshire was smaller, he focused on picking stocks and buying companies such as See's Candies and the Buffalo News that required little capital. More recently, he acquired power companies and purchased a railroad. Those businesses provide regular opportunities to invest billions of dollars at steady, though unspectacular, rates of return.
"Berkshire has a too-much-capital problem," said David Rolfe, a fund manager who oversees about $6.5 billion including stock in Buffett's company. Investing more in utilities "is a very attractive solution."
Read more: Who owns the sun? Buffett controls Nevada utility
Buffett entered the industry in 2000 when Berkshire led a group purchasing MidAmerican Energy Holdings Co., a Des Moines, Iowa-based utility business. That became a platform to buy interstate pipelines, power companies in the western U.S. and a transmission system in Alberta. The unit was later renamed Berkshire Hathaway Energy, highlighting its growing importance within the conglomerate. It generated $2.3 billion of profit for Buffett's company last year, twice as much as in 2010.
Buying Energy Future Holdings would add to that income and provide a broader base of assets on which Berkshire can earn a return. Subsidiary Oncor runs the largest network of electric distribution and transmission lines in Texas and delivers power to more than 3 million homes and businesses. It has more than $20 billion in assets and posted $431 million in profit last year.
Buffett has highlighted other benefits to the power business. Utilities' earnings tend to be "recession-resistant," he wrote in a letter to shareholders in February. Berkshire has also become a major developer of wind and solar power, in large part because of valuable tax credits generated by the projects.
While the railroad industry long ago consolidated, ownership of electric utilities is more fragmented. That gives Berkshire opportunities to add to its stable over time.
To land deals, Buffett relies on BH Energy Chief Executive Officer Greg Abel. The 55-year-old executive has steadily expanded his business through acquisitions and improved operations at the units he buys, earning Buffett's praise and funding for future takeovers. In 2015, Berkshire Vice Chairman Charles Munger called Abel a "world-leading" manager, stoking speculation that he's a candidate to take over eventually for Buffett atop the conglomerate he's been building for five decades.
The Energy Future Holdings deal "shows a lot of confidence in Greg Abel," said Jim Shanahan, an analyst at Edward Jones. Even so, it probably won't put too much of a dent in Berkshire's cash pile, which stood at a record $96.5 billion at the end of March, he said. "This would be a sizable bolt-on acquisition to BH Energy."
— With assistance by Jim Polson, and Ryan Collins
Before it's here, it's on the Bloomberg Terminal.
LEARN MORE