markets
BOJ Asserts Control Over Rising Yields With Purchase Offer
By
Central bank's third fixed-rate operation drew no tenders

Curve will likely flatten in the short-to-medium zone: SMBC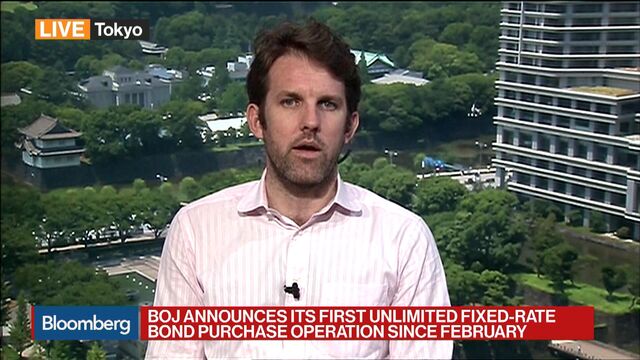 The Bank of Japan asserted control over the nation's bond yields, sending borrowing costs lower with its first fixed-rate purchase operation since February after a global debt selloff.
No bids were tendered after the central bank offered to buy benchmark 10-year notes at 0.11 percent, it said Friday. Yields dropped to 0.085 percent from as high as 0.105 percent before the operation was announced, while the yen swung to a loss.
The BOJ is acting after German bonds and Treasuries led a global debt selloff Thursday, threatening its yield-curve control strategy. The hawkish tilt adopted by the European Central Bank and the Bank of England last week has put in focus the policy divergence that Japan has with its peers, with Governor Haruhiko Kuroda maintaining that the nation requires stimulus to reach growth and inflation targets.
"BOJ's operations on Friday clearly showed its stance that it will not allow JGB yields to rise extensively," said Genji Tsukatani, a Tokyo-based fund manager at JPMorgan Asset Management. "The BOJ isn't expected to tighten right away as domestic prices aren't rising."
The yen traded down 0.5 percent at 113.75 to the dollar at 3:23 p.m. in Tokyo, after earlier strengthening as much as 0.1 percent. The yield for 20-year bonds fell 1.5 basis points to 0.605 percent, while that for 30-year debt slipped 1 basis points to 0.89 percent.
"The ECB and BOE have become more hawkish, giving the impression that they will eventually tighten their monetary policies and the Fed is already raising interest rates," said Hidenori Suezawa, chief fixed income strategist at SMBC Nikko Securities. "In such a scenario, the BOJ will keep its stance to buy JGBs to control the yield curve as it still has a lot of room to buy."
This is the third time that the BOJ conducted a fixed-rate operation since introducing its yield-curve control policy in September. Its first offer in November also drew no bids, while it bought 723.9 billion yen ($6.4 billion) in February, sending yields lower after they had surged to 0.15 percent on Feb. 3.
While the offer should help, the 10-year bond may continue to be volatile as medium-maturity yields stay supported, according to Souichi Takeyama, a rates strategist at SMBC Nikko Securities Inc. It's uncertain if the BOJ has plans to also push down yields in the medium-term sector, and it's likely that the curve will flatten in the short-to-medium-term zone, while steepening beyond the 10-year sector, he said.
Zero Percent
The BOJ adopted a strategy to control yields at around zero percent in September, while maintaining an annual bond purchase target of around 80 trillion yen. Still, market participants asked the central bank at meetings held last month to consider a policy framework under which greater volatility in yields was allowed, while interest rates are maintained at a sufficiently low level.
Kuroda and his board members have come under increasing pressure to discuss how the central bank might unwind its policies to give more guidance to investors. He may have to start discussing an exit by the end of the year as economic growth may surprise on the upside, according to Principal Global Investors, which manages more than $424 billion.
The Japanese economy has continued to show signs of recovery, with improving confidence among manufacturers, rising salaries, and higher capacity usage.
— With assistance by Shigeki Nozawa
(
Updates with JPMorgan comments in fourth paragraph, yield curve in fifth paragraph.
)
Before it's here, it's on the Bloomberg Terminal.
LEARN MORE