markets
Balanced Investors Face Amplified Negative Impact of Real Rates
By
Rates not an optimal hedge against stock market sell-off

Pivotal point emerging in central-bank liquidity trades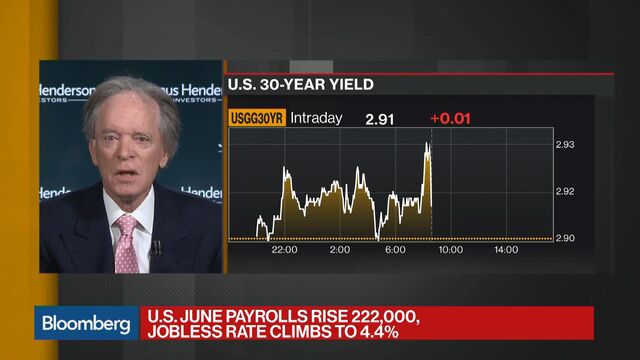 Shocks stemming from increases in U.S. real interest rates show that traditional core bonds are no longer an effective hedge against rich asset valuations for balanced investors, Bloomberg strategist Tanvir Sandhu writes.
The market-price action following European Central Bank President Mario Draghi's speech in Sintra on June 27 highlighted how rates are currently an element of risk to equity, rather than support, with both Treasuries and the S&P 500 index falling after German 10-year bunds suffered a four-sigma sell-off.
The negative impact of an increase in real rates on risk-parity investors as the cycle matures may be amplified, given depressed equity volatility will likely have driven increased allocations into stocks.
U.S. five-year real rates have increased about 55 basis points since February, while inflation breakevens are lower by 40 basis points.

While the theme of low volatility may be maintained in the near term and requires a material fall in growth or an external shock, a gradual shift to overweight cash through the summer may develop, given stretched valuations across assets and central-bank risk increasing. Given the solid gains in both stocks and bonds, a more cautious approach is warranted, with correction risks rising and cash offering option value in drawdowns.
While stretched U.S. equity valuations don't exhibit short-term signaling ability, longer-term return prospects have significantly diminished with the S&P 500 trading at 18.6 times forward earnings per share, levels not seen since the tech-stock bubble. Another leg higher in equities seems plausible, given flows don't yet appear irrational; however, while low interest rates imply lower discount rates, which can vindicate high levels of valuations, central banks in advanced economies appear to be turning more hawkish.
A regime shift in volatility will be best captured with long-convexity exposure combined with tactical shorts, rather than tail-risk strategies betting on mean-reverting volatility spike, see more here.
NOTE: Tanvir Sandhu is an interest-rate and derivatives strategist who writes for Bloomberg. The observations he makes are his own and are not intended as investment advice.
Before it's here, it's on the Bloomberg Terminal.
LEARN MORE