Austria Plans to Drop Eurofighter, Buy New Interceptor Fleet
By
Air force suggests move away from Typhoon to alternative jets

Proposal comes amid Airbus fraud probe into over-pricing claim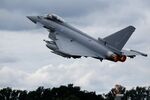 Austria plans to transition away from its fleet of Eurofighter Typhoon jets amid a long-running spat over pricing after concluding that sourcing a new squadron of supersonic interceptors would be a cheaper and more effective option.
The Austrian Air Force recommends moving to a single type of warplane with 15 single-seat and three double-seat versions from 2020, replacing its current fleet of 15 Typhoons and three older subsonic Saab AB 105 OEs that are due for retirement, according to a statement from the defense ministry Friday.
The move comes amid a fraud probe into claims that Austria was deceived as to the price of the Eurofighter deal by Airbus SE, the consortium partner that negotiated the sale. Sticking with the Typhoon and its "inferior" detection gear may cost 5.1 billion euros ($5.8 billion) in 30 years, excluding subsidiary costs and replacement of the Saab jets, a specially commissioned report suggests. The new plans could save 2 billion euros depending on the option chosen.
While that could entail retrofitting the Eurofighters and purchasing three twin-seat used versions of the plane, that would involve cost risks that are difficult to quantify, the report said, pointing to the procurement of an alternative high-performance interceptor fleet and the jettisoning of the Typhoons.
Airbus and Eurofighter both said separately that while they couldn't comment on Austria's defense-procurement process, the Typhoon "works very well for all other customers."
Competing Plans
The Eurofighter countries -- Britain, Germany, Italy and Spain -- are also developing their own future concepts, so that it's unlikely that there will be a uniform upgrade in the future, according to Austria's air force chief, Brigadier Karl Gruber, who led the study.
"We need to get the escalating costs of the Eurofighter under control and minimize the enormous cost risks associated with it," Austrian Defense Minister Hans Peter Doskozil said in the statement.
The allegations against Airbus claim that the company knew the Typhoons wouldn't be available on time and in the right configuration and that Austria was overcharged by about 183 million euros for expenses that included lobbying and kickbacks. The Austrian defense ministry is itself seeking as much as 1.1 billion euros in damages from Airbus.
Prosecutors opened a criminal inquiry in February into whether the planemaker deceived the government when it sold Austria the jets in 2003. The country's two largest opposition parties have also been pushing for a parliamentary probe into the decision to buy the Eurofighter instead of the Saab Gripen.
The Eurofighter is produced by a consortium of Airbus, BAE Systems Plc and Italy's Leonardo SpA. Airbus denies the allegations and has said the investigation is a "politically motivated abuse of the legal system."
Before it's here, it's on the Bloomberg Terminal.
LEARN MORE