technology
U2's Edge Helps Fender Find What It's Looking for With New App
By
Fender Play aims to replace the guitar teacher for $20 a month

Most new players give up instruments after less than a year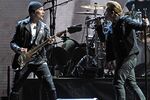 By all rights, The Edge should have quit playing guitar before he ever joined a band. The U2 rocker couldn't even tune his instrument for the first few years, but he stuck with the pint-sized nylon-string acoustic he got around age 9 and became a legend.

Almost 40 years after David Evans got his Stratocaster, U2's lead guitarist is helping Fender Musical Instruments Corp., where he's a board member, market a learning app to make sure the next Edge sticks with it. Fender Play, costing $19.99 a month, goes on sale Thursday in the U.S., U.K. and Canada.
"There's still a lot of interest in guitar music, but it doesn't appear at the forefront of contemporary culture,'' Evans said in an interview. "It's in the back there somewhere. This will help."
In the 71 years since Leo Fender starting making guitars in a radio repair shop, the company has sold Stratocasters to Eric Clapton, John Mayer and Jimi Hendrix, gone through several ownership changes and weathered a few recessions. Today it's controlled by the Growth unit of TPG Capital and Servo Pacific Inc. But the number of guitars sold in the U.S. is stagnant, and few of the top music acts in the world today play guitar. They sing, DJ and rap.

With industry sales slack, the world's biggest guitar maker sees Fender Play as one way to boost revenue. By charging for instruction, the company can keep making money after wannabe players leave the store. If more people stick with their guitars, they'll ultimately buy nicer ones and additional equipment.
The course work -- five levels with 10 to 12 courses each -- is designed to let new students play something they recognize in half an hour, whether it's rock, pop, blues, country or folk. With most new players giving up in the first year, instant gratification is key. But it should also appeal to former players looking to hone their skills or even an expert, according to Ethan Kaplan, Fender Digital's general manager.
"There are a lot of people who have guitars under their beds," Kaplan said in an interview. "If we could give them a quick path to feeling accomplished, we could re-activate this existing base of players. For every guitar we sell, there are a bunch we've sold that are just a piece of wood."
REM's Website
Kaplan has spent his career helping bands, record labels and concert promoters use new technology. He got his start operating a fan site for the band REM in the early days of the internet, served as senior vice president of technology for Warner Bros. Records and led a startup incubator at Live Nation Entertainment Inc., the world's largest concert promoter.
He joined Fender in September 2015 to develop apps and new services. Among the new products: an app to help players tune their guitars and technology that will link apps wirelessly to Fender's new amplifiers.
The market for guitar lessons is massive. Some 60 million people rent a guitar, Kaplan said, though it's unclear how many people are active players. Fender Play is entering an already crowded field -- from free apps like Guitar Lessons to paid ones like Ultimate Guitar Tabs. Millions of people also use YouTube videos to learn or re-learn various songs.
Two years ago, TPG Growth and Honolulu-based Servco recruited Andy Mooney, a veteran of Nike Inc. and Walt Disney Co., to bring Fender into the 21st century. He'd declined earlier overtures. The company was based in Scottsdale, Arizona, and he'd promised his family he wouldn't leave Los Angeles. He took a job running Quiksilver, a troubled clothing brand that ultimately filed for bankruptcy.
Fender Calling
When that job ended in March 2015, Mooney got a call from a Fender board member, investor and headhunter. The company had bought an office in Hollywood and still wanted Mooney. TPG's Bill McGlashan also recruited Evans and U2 lead singer Bono to join Fender's board.
"They were looking for some big gains, which they saw by leveraging Fender and digital products and services," Mooney said. "They were looking for a different CEO. It took them a while to find one, I ended up being it."
Mooney sees lots of opportunities -- such as the online learning app introduced Thursday. While 80 percent or more of the contemporary guitarists who played the major festivals last year used the company's instruments and amps, Fender's overall market share is lower at about 35 percent. The company doesn't sell used guitars.
"There is a lot of growth left in the core business," Mooney said. "If we get that growing at healthy clip, and add digital revenue, we've got a really good story for the investors and the management team."
The Edge has played a Fender since he was 17 or 18, and used his first professional-grade guitar to record U2's debut album. He owns a few hundred now, most of which are in Dublin. His current favorite bears his name: It's a re-creation of the guitar he's played for decades.
The guitarist often looks up YouTube videos of himself at the beginning of a tour to remember how to play certain songs. In the app, he and the band will help would-be guitarists learn hits such as "Beautiful Day," "Desire" and "Where the Streets Have No Name."
"I'm not one who loves practicing the fundamentals the basics, the scales," Evans said. "The quickest way to bone up on a tune is to see a video of someone playing it, or yourself playing it."
Before it's here, it's on the Bloomberg Terminal.
LEARN MORE