U.S. Regulator Seeks to Fill Crisis-Era Gaps Riddling Swaps Data
By
CFTC effort will seek to standardize data sent to repositories

Agency looks to fix problems stemming from lack of guidance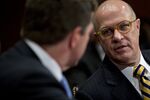 When Bear Stearns Cos. was collapsing in early 2008, U.S. officials struggling to contain the damage feared fallout from the bank's derivatives trades could devastate already roiling markets. But they couldn't tell how bad things could get, or who would be hit the hardest, because at the time banks didn't have to report the details of their swaps transactions.
Nearly a decade later, the regulator in charge of overseeing the $483 trillion global swaps market says it still often initially gets only a murky view of those transactions. That's in part because the rules devised to solve the problem have created a patchwork system where data is collected under different formats and standards. As soon as this week, Commodity Futures Trading Commission acting chairman J. Christopher Giancarlo will aim to change that by announcing an effort to rewrite the rules to make the data more usable.
The way it works now, four privately owned data repositories, approved by the government, collect and report data on the swaps market. In the absence of thorough guidelines, they are allowed to use different standards that leave it to CFTC workers to cobble together a full picture of systemic risk. The goal of the agency's new effort will be to standardize the data.
"It's just not as easy or efficient as it should be," said Amir Zaidi, who heads the agency's market oversight unit and will lead the overhaul effort. "If we had all the stuff automated, rather than manually cleansing the data, it would obviously be much more efficient."
Dodd-Frank Headache
The swap data repositories were created as part of the Dodd-Frank Act of 2010, which vastly broadened the CFTC's oversight responsibilities. The agency wrote the rules, but didn't give strong guidance to the four firms authorized to operate data warehouses or require that they coordinate how they format information.
"There's no single place to go to get the data," said Larry Tabb, the founder of the Tabb Group, a capital markets-focused research firm. "If they had a crisis and a weekend to figure it out, this would be problematic. It would be very hard to figure out where all the counter-party risk would be."
The CFTC's inspector general recently blasted the agency, not the companies, for the way it has handled the collection of swaps data, calling it "inexplicable that a regulatory agency would impose data-reporting obligations on industry but fail to coordinate with industry to establish the data and formats needed to facilitate the regulatory program."
When he was acting chairman in 2014, Mark Wetjen sought comment on ways to change how information is reported to the databases. More recently, Giancarlo's predecessor Timothy Massad formed a working group to address the concerns, according to a person familiar with the matter. In June 2016, the agency amended rules to try to clarify reporting responsibilities for cleared swaps.
'Remarkably Elusive'
"It's just proven to be remarkably elusive to get the standardization and the consistency because different entities have different requirements," said Dan Berkovitz, a former CFTC general counsel who's now a partner at law firm WilmerHale. "If it's easy it would have been done. I don't think it hasn't been done for a lack of will or a lack of trying."
The Depository Trust & Clearing Corp., CME Group Inc., Intercontinental Exchange Inc., and BSDR LLC, which is owned by Bloomberg News parent company Bloomberg LP, each run a depository registered with the CFTC.
Wetjen, who is now DTCC's head of global public policy, said in a statement that regulators' effort to give more prescriptive guidance "should encourage the harmonization and standardization of data across trade repositories." In an email, CME said it is participating in standardization initiatives and was "pleased" to see them progressing. ICE declined to comment on the CFTC's plans and said that its repository only accepts submissions when all data fields are complete. BSDR, the Bloomberg-owned entity, declined to comment.
In preliminary discussions, the companies have appeared willing to go along with the program, Zaidi said. Giancarlo, a former trading firm executive, has been well-received by the industry, something that could bolster his bid to finally get everyone on the same page.
"It's been three years" Zaidi said of the effort to standardize the data. "We don't want it to take another 10."
Senate Confirmation
Giancarlo, a Republican who's still awaiting Senate confirmation for a full term as CFTC chairman, has said that he plans to wait until commissioner openings are filled before moving ahead with major rulemakings. Currently, Sharon Bowen, a Democrat who has said she plans to leave the agency in the coming months, is the only other member. At full strength, the CFTC has five commissioners including the chairman.
The planned rules overhaul will be broken into two phases. First, CFTC officials will focus on working with the companies that run the repositories to validate information and ensure all parties are reporting accurately. That would be followed by moves to create a rule spelling out the data that repositories need to make available, he said. Those requirements would be meant to match international standards now being developed, and regulators are aiming to complete both rules for the end of 2018.
Before it's here, it's on the Bloomberg Terminal.
LEARN MORE