U.S., Japan, South Korea to Press China Over North Korea Threat
Peter Martin
Trump, Abe, Moon seek ways to rein in Pyongyang ahead of G-20

North Korean missile test overshadows meeting of world leaders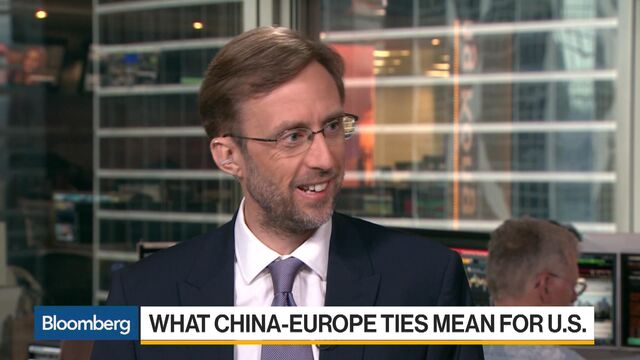 The U.S., Japan and South Korea kept up the pressure on China to do more to rein in North Korea's nuclear ambitions, days after Pyongyang's test of an intercontinental ballistic missile.
The three allies' leaders held a "vivid discussion" on North Korea and China over dinner Thursday on the eve of the Group of 20 Summit in Hamburg, Germany, according to Norio Maruyama, a spokesman for Japan's Ministry of Foreign Affairs.
North Korea's first successful launch of a missile capable of reaching at least part of the U.S. has overshadowed the G-20, which starts Friday, and is a key test of U.S. President Donald Trump's vow to halt Pyongyang's weapons programs. The three nations hope to send a strong message from the summit to North Korean leader Kim Jong Un, Maruyama told reporters after the dinner.

The U.S. leader has signaled his growing frustration at the pace of China's efforts to pressure North Korea. It is the major trading partner and ally of the isolated regime. Other countries including Australia have also pressed for Beijing to tighten the economic noose on Pyongyang.
Still, Maruyama's comments also underscore the differing approaches by North Korea's neighbors -- and the U.S. -- on how to curtail Kim's nuclear ambitions. While China and Russia favor talks, potentially without preconditions, South Korea is seeking a combination of talks and sanctions, and Trump has said the U.S. won't rule out military action.
Read more: Xi May Put Ball in Trump's Court on Talks With North Korea
A U.S.-led effort to broker a United Nations Security Council statement condemning North Korea has broken down, according to two officials. Among the five permanent members of the Security Council, the U.S., France and U.K. were unable to overcome Russian and Chinese objections to a draft statement, the officials said, asking not to be identified discussing private negotiations.
Thursday's meeting between Trump, Japanese Prime Minister Shinzo Abe and new South Korean President Moon Jae-in was the first trilateral encounter of the nations' leaders in more than a year, Maruyama said.
Abe will seek to have a one-on-one meeting with Chinese President Xi Jinping during the G-20, Maruyama said. Over dinner, Abe "conveyed approval" for U.S. sanctions against Chinese companies that deal with North Korea and said Japan has been monitoring the movements of those businesses, Maruyama added.
Abe told Trump and Moon that "dialogue for the sake of dialogue with North Korea is meaningless, and at this juncture it is essential to put pressure on North Korea," Maruyama said.
Earlier Thursday, U.S. Defense Secretary James Mattis said Pyongyang's ICBM test doesn't necessarily bring the two nations closer to war. "Diplomacy has not failed," Mattis told reporters at the Pentagon.
During a news conference in Warsaw on Thursday, Trump condemned North Korea for the missile launch and said he's weighing some "pretty severe things" in response.
"It's a shame they're behaving this way, and they're behaving in a very dangerous manner, and something will have to be done about it," he said. Xi and Trump are also due to met on the sidelines of the summit.
— With assistance by Kambiz Foroohar
Before it's here, it's on the Bloomberg Terminal.
LEARN MORE