Trump Sees Existential Threat to West From Terror, Bureaucracy
By and
President addresses Warsaw crowd with call to defend values

Trump stops in Poland ahead of Group of 20 summit in Germany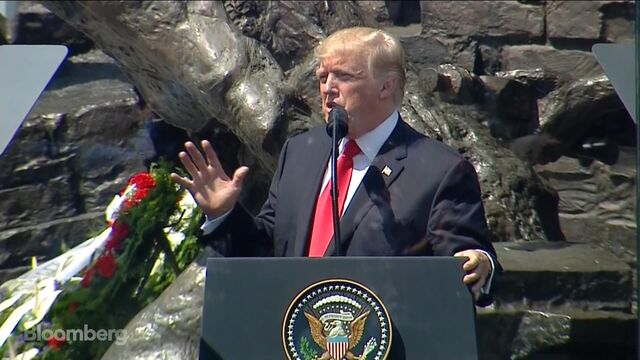 President Donald Trump told a Warsaw crowd Thursday that Western nations must stand up to the twin evils of terrorism and stifling government bureaucracies that squelch individual liberty -- or risk perishing from the Earth.
In a speech that sometimes echoed the dark tones of his inaugural address, Trump laid out a stark vision of a clash of civilizations and said it's not clear that the West can survive. He argued that the West can prevail, but only if nations cling tight to the bedrock values of faith, family and freedom.
"As the Polish experience reminds us, the defense of the West ultimately rests not only on the means but also on the will of its people to prevail," Trump told a cheering crowd in Krasinski Square that at times chanted his name. "The fundamental question of our time is whether the West has the will to survive."
"Our own fight for the West does not begin on the battlefield -- it begins with our minds, our wills, and our souls," Trump said.
Trump equated bureaucracy to the threat of terrorism in an unusual juxtaposition. He did not use the term "deep state," the notion of an entrenched "permanent government" bureaucracy that many Trump supporters believe is attempting to thwart the president's bolder moves in the U.S.
But the speech amounted to an attack on that notion, linking the government overreach of Russian communism suffered by the Polish people to over-regulation in Western societies, in Trump's vision. It's a view held by one of Trump's top advisers, Steve Bannon.
Hours later, after arriving in Hamburg, Germany to take part in the Group of 20 summit, Trump returned to the theme in a Twitter message: "THE WEST WILL NEVER BE BROKEN. Our values will PREVAIL. Our people will THRIVE and our civilization will TRIUMPH!"
Trump met later in the day in Hamburg with German Chancellor Angela Merkel, and he is to meet tomorrow afternoon with Russian President Vladimir Putin. He's also expected to meet with U.K. Prime Minister Theresa May and Chinese President Xi Jinping during the summit.
'Steady Creep'
During his address, Trump attacked "the steady creep of government bureaucracy that drains the vitality and wealth of the people," arguing that these bureaucrats stand in the way of the democratic expression of the voters.
"The West became great not because of paperwork and regulations but because people were allowed to chase their dreams and pursue their destinies," Trump said.
Trump also chided the Russian government a day ahead of his meeting with Putin, calling on Russia to "to cease its destabilizing activities in Ukraine and elsewhere."
He offered explicit support of the collective defense component of the North Atlantic Treaty Organization charter. Trump had steered clear of saying he supported the so-called Article 5 provision at a stop at NATO headquarters on his first European trip in May.
The speech won praise from one frequent Trump critic, Republican Senator Lindsey Graham of South Carolina. "The speech – along with the decision for the U.S. to increase natural gas sales to Poland, and to provide Patriot missile batteries for Polish defense – is a great way to enter bilateral meetings with Putin," Graham said in e-mailed statement.
Challenge West
The speech was meant to challenge Western nations, to ask whether civilizations are confident enough to protect and preserve what Western nations cherish most, said one aide who discussed the speech on condition of anonymity.
Trump's meetings in Hamburg promise to be contentious, as the president is at odds with the leaders of the world's largest economies on issues from climate change to trade.
The stop in Poland was friendlier, as Polish President Andrzej Duda and Trump discussed the prospect of a permanent U.S. troop presence in the country. Poland also has refused to accept European Union quotas for admitting Syrian refugees, putting its leaders in sync with Trump's effort to stiffen U.S. immigration policy.
In his speech, Trump held up Poland as a model for other nations to follow, rising above its past struggles with communism to become an exemplar of Western values.
"I am here today not just to visit an old ally, but to hold it up as an example for others who seek freedom and who wish to summon the courage and the will to defend our civilization," Trump said.
And Trump defended his strong stance against illegal immigration, labeling it a part of the overall effort to preserve the West. "While we will always welcome new citizens who share our values and love our people, our borders will always be closed to terrorism and extremism of any kind," he said.
Before it's here, it's on the Bloomberg Terminal.
LEARN MORE