Singapore Premier Lee's Siblings Offer Cease-Fire on Family Feud
By
Siblings say may now stop presenting documents on social media

PM Lee says estate dispute tarnished Singapore's reputation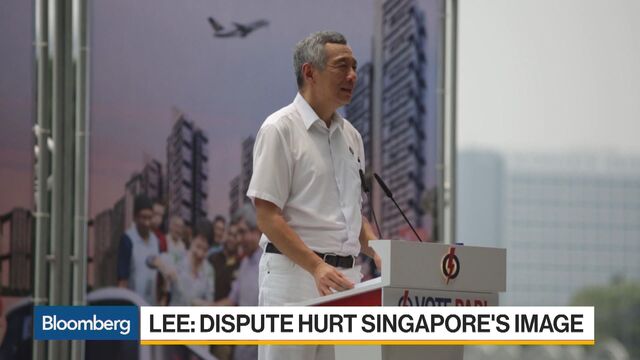 The younger siblings of Singapore Prime Minister Lee Hsien Loong have welcomed an offer by their brother to manage a dispute over their late father's estate in private.
"We look forward to talking without the involvement of lawyers or government agencies," Lee Wei Ling and Lee Hsien Yang said in a seven-page statement they posted on Thursday on Facebook.
The siblings said they would cease presenting further documents to the dispute on social media as long as their father's wish to demolish his residential home was not attacked or misrepresented.
The statement follows a two-day parliamentary debate over allegations raised last month by the younger siblings over the home that belonged to their father Lee Kuan Yew, Singapore's founding prime minister. The duo accused Lee Hsien Loong of maneuvering behind the scenes to undermine their father's instructions that the house be demolished.
The tensions have gripped the island state for weeks with tit-for-tat accusations on social media, casting a shadow over Lee and his People's Action Party-led government. Lee warned previously the spat had damaged the wealthy island-state's reputation and could dent public confidence in the government if it continues.
Still, the PAP has a strong hold on power: It dominates the seats in parliament and increased its share of the popular vote in the last election.
Lee told parliament this week there was no evidence for the allegations of abuse of power, and said calls to set up a commission of inquiry into his conduct lacked any basis as there were "no specifics to the headline charge of abuse of power."
Read More: Singapore's Lee Family Feud Goes to Parliament
In their statement Thursday, the siblings said they would not retract their allegations against their brother, claiming the parliamentary debate was stacked in his favor.
"It is impossible for members of parliament to effectively question PM Lee, when his party controls almost all the seats in the house," they said. "As we pointed out before, parliament is not the right forum for investigations of this nature."
But the siblings added that "releasing further evidence on social media at this time will only muddy the facts."
"If there is ever a truly independent inquiry to examine the evidence, they are welcome to ask," they said. "Ultimately, it is up to the people of Singapore whether they hold Lee Hsien Loong to a true accounting."
Before it's here, it's on the Bloomberg Terminal.
LEARN MORE