markets
How Do Investors Price in Nuclear Armageddon?
By and
Investors discount war as South Korean stocks hit record high

'We've got conditioned to it,' says one big investor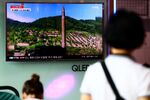 If you're a South Korean stock investor, how do you price in nuclear Armageddon exactly?
That's not just a thought experiment for investors with exposure to South Korean companies and financial assets. North Korean leader Kim Jong Un's regime has conducted rapid-fire ballistic missile and nuclear-weapons tests in an escalating standoff with the United States. In any war-game scenario imaginable, Seoul would sustain massive loss of life and damage should a full-on, military conflict breakout on the Korean Peninsula.
Yet none of that seems to register at the Korea Exchange, where the Kospi Index of stocks has touched record highs and delivered about a 22 percent return this year in dollar terms. That's second only to India among the world's biggest equity markets, and more than double the S&P 500.
For the moment, an end-of-days scenario isn't factoring all that much into investors' thinking. Far more important are the usual stock-market metrics such as buybacks, dividend yields, price-to-earnings ratios and profit growth -- and the news has been pretty positive. Earnings at Korean firms are forecast to grow about 75 percent in the next 12 months. And an on-the-rebound Samsung Electronics Co. has offered a big boost.
"We've got conditioned to it," said Mark Lister, head of private wealth research at Craigs Investment Partners in Wellington, which manages about $7 billion. "The chance of serious conflict is still reasonably low."
Foreign investors have been piling into South Korean stocks and investors with a long-angle lens haven't been rattled. After all, North and South Korea have tangled for decades and have never signed a peace treaty formally ending their war in the early 1950s.
"If we look over the last 10 years, tensions have been worse," said Sat Duhra, a money manager at Janus Henderson in Singapore. "This is a bad situation, but we have seen worse."
Those taking cover and divesting from South Korea's market would have missed a slow and steady climb higher in the equity market that set a record high on June 29. Franklin Templeton Investments sees another 25 percent-plus surge in the next two-to-three years as technology companies climb.

The mega large-cap Samsung, which took a hit to its reputation after last year's botched launch of its Note 7 smartphone, is contributing much of the gains. The electronics firm, which makes up about one fifth of the Kospi Index, is up 33 percent in 2017.
Picking Winners
"In this kind of atmosphere, it is best to pick out sectors that are absolutely more competitive than others," said Chaiwon Lee, chief investment officer at Korea Value Asset Management Co. in Seoul. "Companies that make products which, for instance, the U.S. needs and has a hard time replacing -- such as tech firms like Samsung."
On top of that, South Korean stocks are still relatively cheap by historical standards and compared with other large markets. Even after this year's double-digit surge, stocks trade roughly in line with the Seoul market's 10-year average and remain more than 20 percent below valuations found on the MSCI Emerging Markets Index.
Other investors are making a more philosophical bet about the probability of war. Something along the lines of "North Korea doesn't matter -- until it does."
"Personally, I don't think a major military strike is likely," said Ryu Young-jae, the Seoul-based head of fixed income at Samsung Asset Management Co., which oversees 211 trillion won ($182 billion) in assets. "But if it happens, markets, financial positioning would not matter any more. It will be a matter of life or death to people living here."
— With assistance by Jung Park
(
Updates with context on north-south relations in sixth paragraph.
)
Before it's here, it's on the Bloomberg Terminal.
LEARN MORE