Qatar Flexing LNG Muscle Puts U.S., Australia Plants at Risk
By and
U.S. LNG expansion already uncertain amid lower oil prices

Expanding existing global LNG projects is most competitive
As if billions of dollars of liquefied natural gas project cost overruns and the prospect of a glut well into the next decade weren't enough, proposed export sites now face increased competition from the world's biggest producer.
Qatar's announcement Tuesday that it would double production from the giant North Field comes as more than two-thirds of new projects due in the next decade from Texas to Australia are yet to take investment decisions. The sheikdom, which started some of the largest plants at the end of the last decade, has one of the lowest break-even prices, according to Sanford C. Bernstein & Co.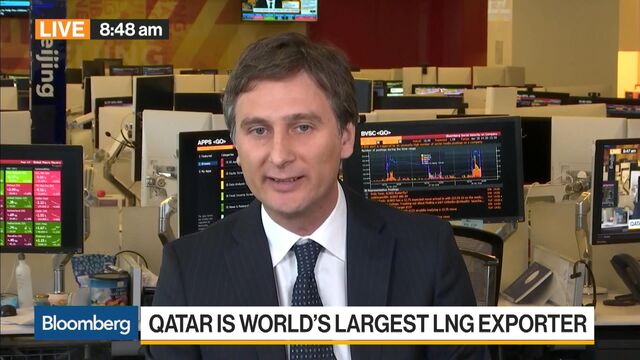 Extending existing export facilities will likely be more successful than starting from scratch at new sites, according to Bernstein analyst Oswald Clint. Bernstein in May said more than two-thirds of LNG projects chasing to fill an expected supply gap in the mid-2020s are unlikely to be built. With a geographical location midway between major markets in Asia and Europe and access to cheap gas, expanded plants in the Middle East are the most competitive, according to the International Gas Union, a Vevey, Switzerland-based industry lobby group.
"The incremental LNG from Qatar is likely to be relatively low cost, so certainly able to undercut supplies from potential new greenfield projects," said Martin Lambert, managing director of Brightlands Energy Ltd., a U.K. consultant. "It will probably also undercut incremental supplies from the U.S. or Australia."
Qatar selling some of the cheapest gas in the world may jeopardize future U.S. LNG export terminals that companies are proposing to build in the next decade, said Victoria Zaretskaya, a Washington-based analyst for the Energy Information Administration.
Click here to read more on the U.S. reaction to Qatar's plans
The Gulf nation announced plans to boost annual LNG production to 100 million metric tons within seven years from 77 million tons now, potentially retaining its position of the biggest supplier even as Australia expands exports following $200 billion of investments. Without the expansion, Qatar's share of global LNG trade would fall to 17 percent by 2026 from 30 percent now, according to data from BMI Research.
Qatar's location makes it "well positioned geographically to be competitive and earn attractive returns" supplying both Asia and Europe, seen as the global sink for the fuel, according to Claudio Steuer, director of SyEnergy, a U.K.-based energy consultant.

The high cash costs of production there means U.S. LNG only becomes competitive into the Far East at oil prices around $60 to $70 per barrel, Steuer said. Crude oil is trading below $50.
"This will limit the magnitude of the expected surge of U.S. LNG supplies," he said. "Under the current low oil prices, we are unlikely to see new U.S. LNG" investment decisions.
Still, U.S. LNG terminal developers including Freeport LNG LLC and Tellurian Inc. are for now undeterred, as Qatar is yet to sell its additional volumes while President Donald Trump and U.S. exporters are promoting their fuel to buyers in Asia.
"We see already the positive signs of the Trump government really putting its weight behind bilateral arrangements" as interest from Japan, Korea and China spiked, said Rene van Vliet, chief operating officer at NextDecade LLC, which is proposing to build a new LNG terminal in Brownsville, Texas. Buyers will look to diversify their portfolios, he said by phone Friday.
"Bigger buyers are looking at not putting too many eggs into one basket," van Vliet said.
There may be opportunity for U.S. projects that already have existing infrastructure and would be cheaper than others to develop, such as an expansion of Cheniere Energy Inc.'s Sabine Pass plant, Bernstein said in a report in May. Further afield, projects that have lower costs of shipping to Asia, such as those in Papua New Guinea and Mozambique, can also compete.
The industry is already struggling to sanction new projects, which, together with emerging demand may see the market tighten by the middle of the next decade.
"There's been a real dearth of new investment decisions being taken on," said Emma Richards, senior oil and gas analyst at BMI in London. "The problem there has been companies don't really have the money to spend, and are having difficulty getting financing in place. Qatar is probably quite uniquely placed to take on projects where other operators would struggle."
— With assistance by Naureen S Malik, and Ryan Collins
Before it's here, it's on the Bloomberg Terminal.
LEARN MORE