Ex-Employee Who Criticized Mercer's Trump Support Drops Lawsuit
By
David Magerman voluntarily dropped case without saying why

Scientist claimed executive's politics tainted hedge fund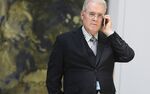 A Wall Street research scientist dropped a lawsuit accusing hedge fund mogul Robert Mercer -- one of the biggest financial backers of Donald Trump's presidential campaign -- of wrongfully firing him for calling Mercer racist and publicly criticizing his support of Trump.
David Magerman, who worked at Mercer's Renaissance Technologies LLC for two decades, ended the suit without giving a reason or collecting a cent in a notice filed in federal court in Philadelphia on July 5, two days before Mercer was required to formally respond to the claims. 
Mercer's attorney Randy Mastro slammed the lawsuit on Thursday and said there was no settlement involved.
"This was a meritless, frivolous, vexatious and sanctionable lawsuit that never should have been brought in the first place, so it was inevitable that it would be withdrawn or dismissed," Mastro said in an email.
Soured Relationship
Magerman claimed in the May lawsuit that he was wrongfully fired after his relationship with Mercer and his powerful family soured. For example, Magerman alleged that Mercer's daughter, Rebekah Mercer, a member of Trump's transition team, called Magerman "pond scum" at a celebrity poker tournament after the dispute had boiled into the open.
Magerman, who was fired April 29, lives in the Philadelphia area, where he opened a kosher restaurant called Dairy Cafe. A message left for him at the establishment wasn't returned. 
His attorney, Robert Fiebach, rejected Mastro's claim that the litigation was deficient.
"I do not agree with that characterization, but we made a decision for reasons that I am not free to discus to discontinue the case without prejudice," Fiebach said Thursday in an email.
Mercer, a major investor in Trump-friendly Breitbart News, advised the president to hire two of the Mercer family's longtime political advisers, Stephen Bannon and Kellyanne Conway.
Magerman claimed Mercer's politics "tainted" the hedge fund, while internal policies that prohibit "politely" speaking out against the company in public are "unfair and untenable."
Magerman said he designed mathematical and statistical algorithms to direct Renaissance's investment decisions on international financial markets, resulting in billions of dollars in revenue for the hedge fund.
Renaissance had no comment on the lawsuit when it was filed in May.
The case is Magerman v. Mercer, 17-cv-02083, U.S. District Court, Eastern District of Pennsylvania (Philadelphia).
Before it's here, it's on the Bloomberg Terminal.
LEARN MORE