Mattis Says U.S., North Korea Not Near War After ICBM Test
By and
Trump says he's weighing 'pretty severe things' after launch

UN Security Council at stalemate after emergency hearing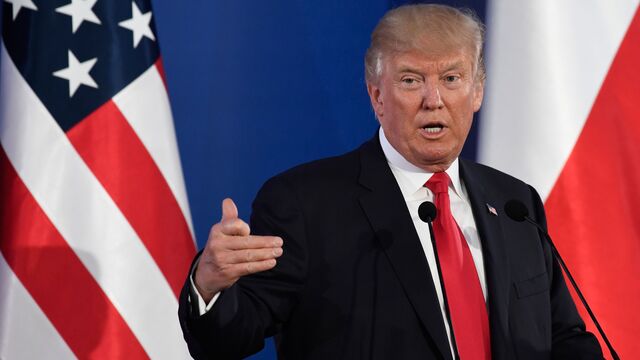 North Korea's launch of a missile capable of reaching the U.S. doesn't necessarily bring the two nations closer to war, Defense Secretary James Mattis said, even as President Donald Trump announced that he's weighing some "pretty severe things" in response.
"I don't believe this capability in itself brings us closer to war," Mattis told reporters Thursday at the Pentagon. He said he wasn't surprised by the July 4 launch and added that U.S. "self-restraint" prevented open conflict between the countries. "Diplomacy has not failed."
North Korea's first confirmed test of an intercontinental ballistic missile is becoming a key test of Trump's vow to stop Pyongyang's weapons programs and is expected to be a central part of his talks at the Group of 20 summit in Hamburg this week. In Poland on Thursday, Trump said, "It's a shame they're behaving this way, and they're behaving in a very dangerous manner, and something will have to be done about it."
But, the president added, "Doesn't mean we're going to do them. I don't draw red lines."
Yet an early administration effort to rally international condemnation against North Korea appeared stymied at the UN, one day after U.S. Ambassador Nikki Haley, along with South Korea and Japan, called for an emergency Security Council session on the launch. While Haley threatened U.S. trade ties with any nation still doing business with North Korea, Chinese and Russian objections to a resolution condemning the missile test continued into Thursday afternoon.
For a QuickTake Q&A on options for dealing with North Korea, click here
U.S. wording that nations should consider "further significant measures" against Pyongyang was one source of protest, as was Russia's opposition to describing the missile as an ICBM, according to diplomats involved in the talks who asked not to be identified while negotiations continue.
As an alternative to tighter economic sanctions, China and Russia have proposed that North Korea declare a moratorium on nuclear and missile tests if the U.S. and South Korea halt large-scale military exercises. But that proposal was rejected and, in the aftermath of the launch, the U.S. and South Korean militaries held a previously unscheduled live-fire drill.

Two U.S. officials said North Korea's latest launch involved an upgraded version of its exiting road-mobile KN-17 missile, which is described by analysts at the Center for Strategic and International Studies in Washington as an intermediate-range ballistic missile that previously was tested successfully on May 14. Intermediate-range missiles are capable of flying 3,000 to 5,500 kilometers (1,860-3,400 miles).
The two officials, who asked not to be identified discussing their assessments, said the North Korean missile was equipped with a booster that's estimated to increase its range to the ICBM-class of over 5,500 kilometers. That would put Alaska, though not Hawaii or the U.S. mainland, within range of attack.
"We're still analyzing all the details on the test," Mattis said. "It clearly had a booster, which was a new development on a previous missile," he said.
How European Backpackers and Lovebirds Fund Kim's Embassies
The missile was detected by U.S. radar and missile defense systems as soon as it was launched, Mattis told reporters.
"We were on duty, the radars were up and operating," Mattis said, calling the test a "grave concern."
Trump, who spoke alongside Polish President Andrzej Duda earlier in the day, offered no details about what measures he is considering and didn't answer a question directly about whether he's contemplating the use of military force. Earlier in the news conference, he said he's calling on all nations to "publicly demonstrate to North Korea that there are consequences for their very, very bad behavior."
The U.S. president has signaled increasing impatience with his initial efforts to convince China to do more to rein in its neighbor and trading partner.
Trump Tweet
"So much for China working with us - but we had to give it a try!" he said in a tweet on Wednesday. After arriving in Germany on Thursday, Trump declined to respond to a shouted question about whether he had given up on Chinese support for a tougher line against Pyongyang. Trump is expected to meet Xi before the G-20 wraps up on Saturday.
So far the administration seems to be focused on increasing pressure on China by letting the country know it can be squeezed on economic issues, including currency and trade, according to a State Department official who requested anonymity to discuss internal deliberations.
In late June, the Treasury Department cut off the Bank of Dandong -- which operates 101 outlets in northeastern China and reported assets of 78.3 billion yuan ($11.6 billion) at the end of March -- from the international financial system because of its dealings with North Korea. It also sanctioned a Chinese shipping company and two Chinese citizens. The president could also take the largely symbolic step of labeling China a currency manipulator, a move Trump vowed to follow through on during his campaign before backing down.
Chinese state media said Xi warned Trump that "negative factors" are hurting U.S.-China relations after the move to sanction the Bank of Dandong.
Trump has said all options, including military force, are available against Pyongyang, though its neighbors warn a strike could be disastrous for North Asia. South Korea's new government favors talks to bring Kim to heel, also putting it potentially at odds with Trump's administration.
— With assistance by Toluse Olorunnipa, Margaret Talev, Nick Wadhams, and Justin Sink
Before it's here, it's on the Bloomberg Terminal.
LEARN MORE