business
Malone to Put QVC, HSN Under One Roof in $1.3 Billion Deal
By and
Liberty Interactive using stock to acquire full control of HSN

Merger to yield $75 million to $110 million in annual savings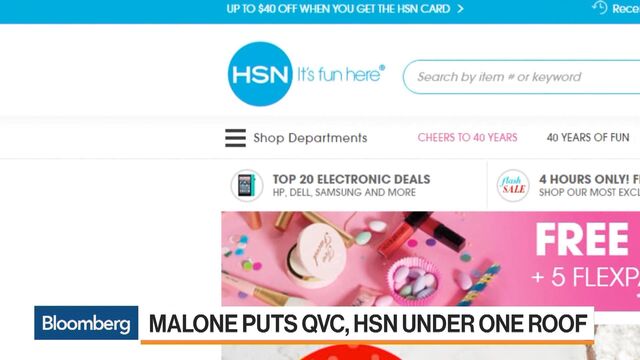 Billionaire John Malone's Liberty Interactive Corp. will increase its stake in HSN Inc. for $1.3 billion in stock to acquire full control, consolidating its hold on home-shopping services as the retail and television industries undergo seismic changes.
The move by Liberty, which also owns the QVC network, comes as Amazon.com Inc. and Wal-Mart Stores Inc. become the dominant players in online retail and more people drop their cable subscriptions to watch TV online. Combining QVC and HSN will allow the two brands to cut costs and negotiate better deals with pay-TV distributors, among other things, executives said Thursday.
"The increased scale of this combination will allow us to more effectively compete, we think, in the changing and evolving retail and digital environment," said Greg Maffei, chief executive officer of Liberty Interactive.
HSN shares surged 33 percent in New York after Liberty Interactive said it will acquire 62 percent of the company, swapping 1.65 Series A QVC Group common stock for each HSN share. The deal values HSN at $40.36 apiece, a premium of 29 percent over the closing price on July 5.

Maffei estimated the deal would produce $75 million to $110 million in cost savings each year, but he noted that "it's a difficult time in the retail market."
Consumers are increasingly shifting their shopping to the internet, where they can easily compare prices and search for deals. They expect retailers to offer a seamless buying experience, with an easy to use website, mobile platform and free shipping and returns. As brands look to increase their share of consumers' wallets, competition is fierce over price and speed of delivery, with the likes of Amazon and Wal-Mart leading the pack.
The combined QVC and HSNI companies will be able to tackle changing shopping habits as well as the shifting media landscape by speeding up innovation and offering more brands and products, QVC Chief Executive Officer Mike George said in an interview.
"A lot of brick and mortar companies are struggling to compete with the likes of Wal-Mart and Amazon," said George, who will oversee HSN after the deal closes. "We pride ourselves on having this unique position where we're not trying to compete with either of those players."
QVC, founded in 1986, has expanded from its television roots into e-commerce. In 2015, Liberty Interactive agreed to buy Zulily Inc. for $2.4 billion, adding an online retailer targeted at young moms to its QVC home-shopping TV network.
"We grew up as a TV retailer, and today what you're finding is the combined company is the third largest e-commerce player, the third largest mobile player," George said. "So the
customer is finding us in new ways."
QVC and HSN will continue to operate as distinct brands, but see opportunities to work closely together and operate their businesses more efficiently. The two brands have 13 million customers combined, with about 2 million of those customers overlapping.
HSN Chief Financial Officer Rod Little said on a call Thursday that overlap among its employees and those at QVC could lead to job cuts. HSN's former CEO, Mindy Grossman, resigned in April to lead Weight Watchers International. If the deal falls through, Liberty would pay a $75 million termination fee, and HSN would make a $40 million payment.
As an example of the cost savings from the deal, George said the two brands planned to produce complementary programming across the five U.S. TV networks they both own, including QVC, QVC2, BeautyiQ, HSN, and HSN2. They also plan to expand their e-commerce capabilities and extend HSN's Shop by Remote platform to QVC, he said.
George said the two companies had different strengths. QVC has a larger presence in the fashion and beauty industries, he said, while HSN is stronger in electronics, fitness and health, he said.
(
Updates with interview with QVC CEO in paragraph 8.
)
Before it's here, it's on the Bloomberg Terminal.
LEARN MORE