politics
U.K. CEOs Head to Brexit Secretary's Lush Country House
By , , and
HSBC, Barclays, easyJet, Centrica, Rolls-Royce on guest list

Talks include debating how to make success of U.K.'s decision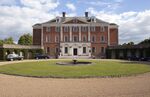 Follow @Brexit for all the latest news, and sign up to our daily Brexit Bulletin newsletter.
A sprawling 17th century country estate straight out of a Jane Austen novel is where British business leaders want to be on Friday as the government seeks their advice on how to navigate Brexit.
Among those boasting a hot ticket to the talks with Brexit Secretary David Davis are Inga Beale of Lloyd's of London, Barclays Plc's Jes Staley, Gavin Patterson of BT Group Plc, HSBC Holdings Plc's Douglas Flint, Tesco Plc's David Lewis and Carolyn Mccall of EasyJet Plc, according to a document obtained by Bloomberg News. Google, Centrica Plc, Rolls-Royce Plc and Burberry Group Plc will also be dispatching representatives.
Read more: The Full List of Invited CEOs

Those that made the cut will convene at Chevening, a mansion 35 miles (56 kilometers) south of London that historically serves as the weekend retreat of Britain's foreign secretary. On the agenda is what more the government can be doing to ensure the divorce of the century inflicts minimal cost on businesses and the broader economy.
Companies sense they have momentum behind them after Prime Minister Theresa May's poor showing in last month's election was interpreted as a defeat of her strategy of prioritizing control of immigration and law-making over their interests.
"Business communities across the U.K. want the government to take a pragmatic and flexible approach to Brexit negotiations that puts the needs of the economy front and center,'' said Adam Marshall, director general of the British Chambers of Commerce, who will attend the meeting.
The day will begin with comments from Davis and Business Secretary Greg Clark before a plenary session titled "Making a success of EU Exit,'' according to the document. Guests will then discuss "understanding business impact under a range of possible negotiation outcomes" before a buffet lunch.
'Global Britain'
The afternoon will be spent debating ways of "promoting business confidence" and "opportunities for global Britain" before Davis delivers concluding remarks.
While Davis has repeatedly met with executives, May's government has been generally viewed as unfriendly to business because of its vigor in seeking a so-called hard Brexit and for measures such as energy price caps and rhetorical criticism of "elites."
Such stances have been challenged by the June election which stripped May's Conservative Party of its parliamentary majority and prompted calls even from within her own party to soften her approach to Brexit.
"There has been a pent-up demand from business leaders for dialogue, which the government is now wisely correcting,'' said Scott Colvin, head of public affairs at Finsbury, which represents a quarter of FTSE 100 companies. "I work with several companies who have told me they are keen to be involved, and after a year in the wilderness business leaders are now hopeful of getting a fair hearing.''
Tide Changing?
Sensing an opportunity, lobby groups are busy promoting their wishlists for Brexit, which tend to focus on maintaining access to Britain's biggest trading partner, ensuring a transitional period for when Britain leaves and protecting a flow of skilled foreign workers.
The Confederation of British Industry on Thursday night called for the U.K. to stay in the tariff-free customs union and regulation-light single market until a final trade deal with the EU comes into force.
"Instead of a cliff edge, the U.K. needs a bridge to the new EU deal,'' said Carolyn Fairbairn, the CBI's director general. "Firms tell us this feels like common-sense.''
Meantime, TheCityUK yesterday advised the government to grant visas to overseas workers with technology talents, while the Chamber of Shipping warned against the return of border controls. Film director Ken Loach also complained overly-tight immigration controls would "throw a spanner in the works" of the British movie industry.
Still in doubt is whether May has changed tack. While Chancellor of the Exchequer Philip Hammond has spoken of a need not to "shut down" immigration and to ensure "the free flow of trade," others including Davis have signaled they are sticking with their pre-election negotiating plan and that the U.K. will leave both the customs union and single market.
Chief EU negotiator Michel Barnier also said on Thursday that "frictionless" trade isn't possible with a country outside of the EU as he again said Brexit would prove "lose-lose" for Britain and the EU.
Business leaders are nevertheless hoping a change of scenery will be coupled by a change in strategy by the government. There have been suggestions Chevening was Austen's model for Rosings Park in her novel "Pride and Prejudice."
"Previously business roundtables have mostly been held at 12 Downing Street or in government department buildings,'' said Colvin of Finsbury. "So this is a way of demonstrating this new tone and direction –- making the business leaders feel more special in a glamorous location.''
— With assistance by Stephanie Baker, Joe Mayes, Ben Katz, and Sam Chambers
Before it's here, it's on the Bloomberg Terminal.
LEARN MORE