Ivory Coast Will Pay Civil Servants to Settle Wage Dispute
By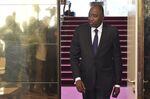 Ivory Coast Prime Minister Amadou Gon Coulibaly said the government agreed to pay public workers 280 billion CFA francs ($481 million) over the next eight years to settle a dispute over wage arrears.
The West African nation will make payments depending on the state's budget, Coulibaly told reporters Thursday in the commercial capital, Abidjan. In return, "the civil servants have to sign a social truce and commit not to go on strike for the next five years," he said.
Labor unions representing government workers embarked on a two-week strike in January over pay that affected the Treasury, revenue authority, health and education sectors and judicial workers. The deal comes after the national budget of the world's biggest cocoa producer's budget was hit by a slump in prices for the beans and following an agreement to make individual payments of almost $20,000 to soldiers who staged mutinies in January and May.
The government has completed the payments to soldiers, Coulibaly said.
Last month, the government widened the 2017 budget-deficit forecast to 4.5 percent of gross domestic product, compared with a previous target of 3.7 percent. The West African nation's economy is expected to grow about 8 percent in the period, he said.
— With assistance by Olivier Monnier
Before it's here, it's on the Bloomberg Terminal.
LEARN MORE