Illinois Capitol Lockdown Lifted, Allowing House to Resume Work
By
Springfield fire chief says white substance tested negative

Lockdown delayed vote to override veto of budget bills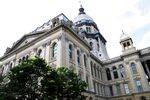 The lockdown of the Illinois state capitol building has been lifted, allowing lawmakers to return to the floor of the House of Representatives.
The temporary shutdown in Springfield delayed the scheduled votes by the House of Representatives on measures to override Governor Bruce Rauner's veto of budget bills.
The statehouse building was shuttered after a woman threw white powder in the governor's office, lieutenant governor's office and House gallery around 1:26 p.m. local time, Springfield Fire Chief Barry Helmerichs said in a phone interview. The secretary of state police took the woman into custody, and the fire department sent in its hazmat team to investigate. Test results came back negative, proving the powder wasn't a biological agent, Helmerichs said.
"An all clear has been issued for the building," according an announcement in the capitol. "It is safe to return to work."
The House's planned votes Thursday are the last step in enacting a budget for the first time in three years. The Democrat-controlled House is scheduled to vote on three measures to override Rauner's Tuesday veto of a $36 billion spending plan and tax hike. If approved, the state will end its record-long budget impasse. Without a budget, Illinois risks becoming the first junk-rated U.S. state.
The governor was not in the building during the incident as he's returning from funeral of a trooper who died in the line of duty last week, according to a person familiar with the matter.
Before it's here, it's on the Bloomberg Terminal.
LEARN MORE