business
Ex-Shkreli Analyst Says Fund Implosion Gave Birth to Retrophin
By and
Caroline Stewart testifies about collapse at Shkreli's trial

Ex-hedge fund manager accused of running Ponzi-like scheme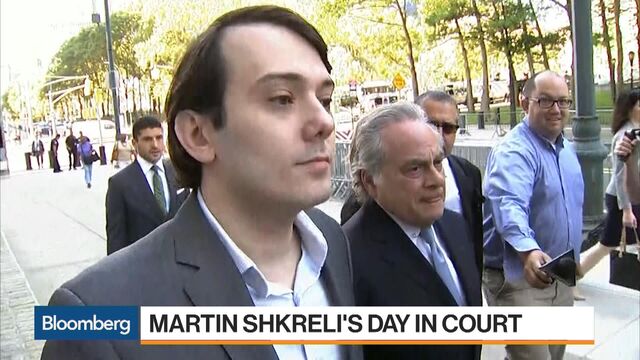 The 2011 implosion of Martin Shkreli's hedge fund turned out to be the catalyst for Retrophin Inc., according to a former analyst who worked for Shkreli, and dated him briefly.
Caroline Stewart testified at Shkreli's fraud trial in Brooklyn Thursday that a failed February 2011 trade at the hedge fund resulted in a loss of more than $7 million, leaving it with barely more than $2 million in assets.
"The office was very intense but when the fund imploded, all of the energy sort of deflated," said Stewart, who's now head of investor relations at another company. "Everyone was sort of quiet, the lights were not turned on, people stopped coming to work.
The collapse also took a toll on Shkreli.
"Martin was slouched in his chair with his hoodie, depressed in a way that I hadn't seen before," Stewart told the jury.
But he bounced back, she said, vowing not to let the banks get a hold of Retrophin. What was then a start-up drug company now has a market value of $736 million.
Shkreli, 34, is accused of having run a Ponzi-like fraud by taking investors' money to start Retrophin and then looting the drug maker of $11 million to pay his hedge fund clients. He's denied wrongdoing.
Jurors have heard that investors in Shkreli's hedge funds struggled, sometimes for years, to get their money back. Several told the jury they ended up with multimillion-dollar profits in the end, as Shkreli partly repaid them with Retrophin stock.
Darren Blanton, 52, founder of the investment company Colt Ventures and a government witness at the fraud trial, testified that Shkreli lied to him and stalled for three years when he asked for his $1.25 million back in 2011. He forwarded those complaints to the Securities and Exchange Commission, in addition to griping that Shkreli took his investment and put it in Retrophin without his permission.
Under cross-examination by Shkreli's lawyer on Thursday, Blanton acknowledged he didn't tell bankers or other investors of his issues with Shkreli, saying it was a private matter. He also defended an email he sent to a banker saying Shkreli was "creative as a CEO."
"He did some creative things for the company," Blanton said. "The company is still benefiting from those creative things. That doesn't mean he didn't lie or try to defraud me."
Despite his misgivings about Shkreli, Blanton agreed to be a consultant to Retrophin in 2014. At the same time, he got $1.6 million back on his original investment and still holds about 150,000 Retrophin shares worth about $3 million, Shkreli's lawyer Benjamin Brafman said. Blanton also promoted Shkreli and Retrophin to other investors.
"Did you tell any of these people that Martin is a crook?" Brafman asked.
Blanton said he didn't remember. "I could have said 'I have had issues, but they've been resolved."'
Blanton said just months after putting money in Shkreli's fund he decided to redeem his investment. The reason, he said, was that the administrator Shkreli claimed helped run his fund had denied working for him.
Brafman asked Blanton why he thought Shkreli had lied about that.
"I don't know why he does anything," Blanton said, "I don't have insight into Martin's brain."
The case is U.S. v. Shkreli, 15-cr-0637, U.S. District Court, Eastern District of New York (Brooklyn).
Before it's here, it's on the Bloomberg Terminal.
LEARN MORE