EU Warns of Brexit Frictions in Blow to Softer U.K. Stance
By and
Barnier says U.K. still doesn't 'fully' understand EU position

EU negotiator warns Britain against 'no deal' threat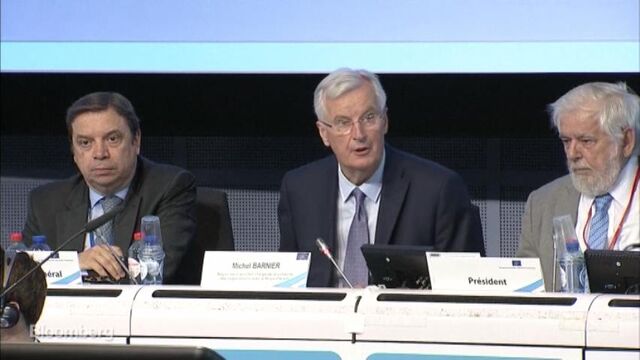 European Union Brexit negotiator Michel Barnier signaled that even a partial withdrawal from the bloc will have consequences on the U.K.'s ability to interact with the EU and that a "frictionless" trade relationship isn't feasible.
A month into formal talks over the split, Barnier used an address to an EU committee in Brussels to tell Britain that any type of breakup will carry costs, delivering a blow to members of Theresa May's government who are distancing themselves from her initial hardline stance and seeking to retain close links.
"A trading relationship with a country that does not belong to the European Union obviously involves friction," Barnier said on Thursday. "So even if we secure the agreement I am working towards, the U.K.'s decision to leave the union will have significant consequences."
The speech is a rebuff to those in Britain who have seized upon Prime Minister May's disastrous election performance as reason to think they can keep some benefits of membership. Barnier sought to underline that any kind of withdrawal from the union it joined 43 years ago will still leave the U.K. in an inferior position.
Britain is essentially seeking to "have its cake and eat it," Irish Foreign Minister Simon Coveney said in a Bloomberg Television interview with Vonnie Quinn and Mark Barton, after meeting Brexit Secretary David Davis in London for what he described as "blunt" talks.
Barnier's points were "true," he said. "There must be consequences" from the U.K's decision to exit.
Economic Safeguards
Chancellor of the Exchequer Philip Hammond is among those advocating a deal focused on safeguarding the economy and there is speculation the U.K. may now try to stay in the tariff-free customs union or even perhaps the single market. That would offer a boost to U.K. industry, but prevent the government from restricting European migration.
Hammond has said that he wants the U.K. to push for a deal that still "protects the free flow of trade" and avoids the fragmentation of financial services.
But in an apparent rejection of Hammond's softer approach, Barnier warned that neither of two models that have been floated -- that of Norway, which is in the single market but not the customs union, nor that of Turkey, outside the single market but in the customs union -- could be as advantageous for the U.K. as full EU membership.
"I have heard some people in the U.K. argue that one can leave the single market and keep all of its benefits -- that is not possible,'' he said. "I have heard some people in the U.K. argue that one can leave the single market and build a customs union to achieve 'frictionless trade' -- that is not possible.''
U.K. Labour Party leader Jeremy Corbyn, who gained seats from May's Conservatives in last month's election, reiterated his support for "tariff-free trade access to the European market" outside the single market in an interview on Thursday with Bloomberg TV. He said he will hold talks with Barnier in a week's time.
Freedom of Movement
Barnier referenced the planemaker Airbus SE, which has a factory in Wales, as a company that uses EU rules to attract engineers and technicians from all over Europe, as the type of firm that may suffer under a new arrangement. Last month, the planemaker said the next U.K. government must guarantee its ability to move people between plants in Britain and the rest of Europe.
No matter what the U.K. seeks, the EU won't allow it to weaken the single market's rules on freedom of labor movement, cherry pick which sectors it can access or escape the region's rules and standards, Barnier said.
Barnier also warned May against maintaining the view that "no deal is better than a bad deal." The prime minister has still to renege on that as U.K. officials argue a threat to walk away from the talks without an agreement should help prevent the EU from demanding too much of it.
"In practice, 'no deal' would worsen the 'lose-lose' situation which is bound to result from Brexit,'' said Barnier. "And the U.K. would have more to lose than its partners."
Avoiding such a scenario requires a "climate of trust" in which the two sides strike deals to protect citizens' rights, settle the U.K.'s financial relationship with the U.K. and design a border between Northern Ireland and the Republic of Ireland, he said.
"In a classic negotiation, and this isn't a classic negotiation, 'no deal' means a return to the status quo,'' Barnier said. "In the case of Brexit, 'no deal' is a return to a distant past.''
— With assistance by Dara Doyle
Before it's here, it's on the Bloomberg Terminal.
LEARN MORE