De Blasio Headed to Germany to Join Protest Against Trump
By
The demonstration coincides with the G-20 meeting in Hamburg

The mayor's staff didn't announce the trip until late Thursday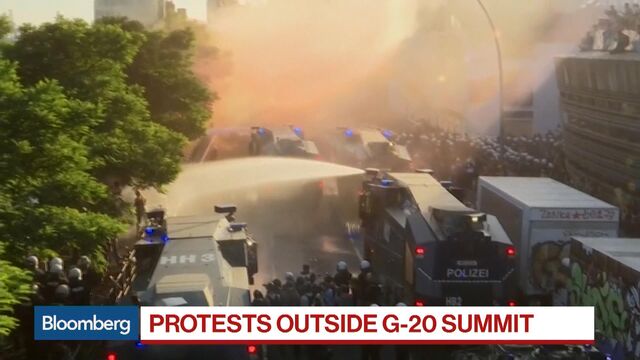 New York Mayor Bill de Blasio is headed to Hamburg, Germany on Saturday to be a keynote speaker at a demonstration against President Donald Trump's policies and the growth of right-wing populist movements in Europe.
The trip, disclosed by the mayor's press office in a 4:15 p.m. update to the mayor's schedule, provided few details other than planned visits to Berlin and Hamburg. De Blasio will participate in a demonstration organized by a group calling itself "Hamburg Zeigt Haltung," or Hamburg Shows Attitude, coinciding with Trump's attendance at the G-20 meeting.
The mayor will be "on stage on Saturday on our rally for human rights and democracy as keynote speaker," according to a Tweet from the organization. The mayor's press office said the trip would also include three staff aides, whose visits will also be paid for the group. De Blasio travels with a police security detail. Eric Phillips, the mayor's press secretary, did not immediately provide specifics about how much of the trip would be at taxpayer's expense.
In a Twitter message response to Bloomberg, Hamburg Zeigt Haltung said it was paying for the mayor's trip: "We pay for the travel because it's worth to not just hear the voice of President Trump in Germany these days."
The trip came at the invitation of Andreas Dressel and Anjes Tjarks, the heads of parliamentary groups of the governing Social Democratic Party and the Green Party in Hamburg, on behalf of the "Hamburg Zeigt Haltung" coalition, Phillips said.
It will include meetings Friday with local officials Friday at Hamburg's town hall and a speech Saturday at the rally, to be held at Fischmarkt, where Dressel will introduce the mayor to the crowd. Phillips said the late announcement was due to the timing of when de Blasio decided to attend the event.
"It's important that American leaders confront head-on, locally and around the world, the damaging rhetoric and policy stances of the Trump Administration," Phillips said. "The Mayor will be sharing New York and American values with an international audience that we worry only sees and hears from our President. Sharing our values and aggressively representing New Yorkers at home and abroad helps keep our city's needs and strengths at the forefront of an important discussion."
De Blasio, 56, who's running for reelection this year, has traveled throughout the U.S. in the past several months as part of an effort to raise his national profile during the three and a half years he's been in office. In May, he introduced U.S. Senator Bernie Sanders to a crowd in Burlington, Vermont.
In 2016, he led a failed effort to create a "progressive agenda" within the Democratic Party that would influence debate and the choice of a presidential candidate. He was forced to cancel a scheduled issues forum in Iowa when no candidate agreed to participate.  
Nicole Malliotakis, a Staten Island Assemblywoman who is de Blasio's presumptive Republican challenger, was quick to criticize the mayor for leaving the city instead of attending to problems such as homelessness and poor subway service. 
"Mayor de Blasio has been criss-crossing the country pushing his national agenda, and now this," Malliotakis said in an emailed statement. "Taxpayers deserve to know how much this is costing them and why the mayor refuses to do his job and address the quality of life issues plaguing our city."
Before it's here, it's on the Bloomberg Terminal.
LEARN MORE