Climate of Fear Engulfs Rwanda's Upcoming Vote, Amnesty Says
By
Rights group slams decades of crackdowns on opposition, media

President Paul Kagame is running for new term in Aug. 4 polls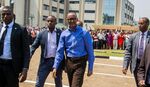 Rwandan President Paul Kagame is seeking re-election amid a climate of fear that's the result of two decades of crackdowns on the political opposition, media and human-rights defenders, Amnesty International said.
A report from the London-based group released Friday said freedom of expression, association and peaceful assembly have all been restricted since the Rwandan Patriotic Front came to power in the wake of the East African nation's 1994 genocide. Opposition politicians and journalists are among those who've been jailed, attacked or forced into exile or silence, Amnesty said.
"Rwandans have faced huge, and often deadly, obstacles to participating in public life and voicing criticism of government policy," Muthoni Wanyeki, Amnesty's regional director for East Africa, said in a statement. "The climate in which the upcoming elections take place is the culmination of years of repression."
Rwanda changed its constitution in 2015, enabling Kagame, who's led since 2000 and taken credit for the tiny, landlocked nation's economic success, to seek a third term in the Aug. 4. election. Annual GDP growth has averaged more than 7 percent since the turn of the millennium. Rwanda's state-run governance board said Amnesty "has recycled the same biased reporting for two decades."
Three Candidates
Kagame will compete against the Democratic Green Party of Rwanda's Frank Habineza and Mpayimana Philippe, an independent, the country's electoral commission said Friday at the announcement of the final list of candidates. Five opposition and independent candidates submitted nomination documents to authorities last month, Amnesty said.
The rights group said one of the most recent cases of alleged repression involved Jean Damascene Habarugira, a representative of the unregistered opposition United Democratic Force (FDU-Inkingi) party who went missing after being called to meet an official responsible for village security. The party said his family were later asked to collect his body, alleging he'd been murdered because he opposed the government's agricultural planning policy, according to Amnesty.
The chief executive officer of the Rwanda Governance Board, Shyaka Anastase, said by phone that while Amnesty has repeatedly made its accusations, the country "has cemented its democratic values and people-centered governance, guaranteed security for all citizens and made historic gains in human development across the board."
Amnesty urged the government to prevent harassment of opposition candidates and their supporters in the upcoming vote and also start reforms to open up political space before the 2024 elections to allow genuine debate.
Before it's here, it's on the Bloomberg Terminal.
LEARN MORE