business
City Chiefs Concede U.K. Can Lose Clearing Oversight in Brexit
By and
EU regulation 'price worth accepting': Barclays's McFarlane

LSE's Rolet foresees 'more integrated' financial regulation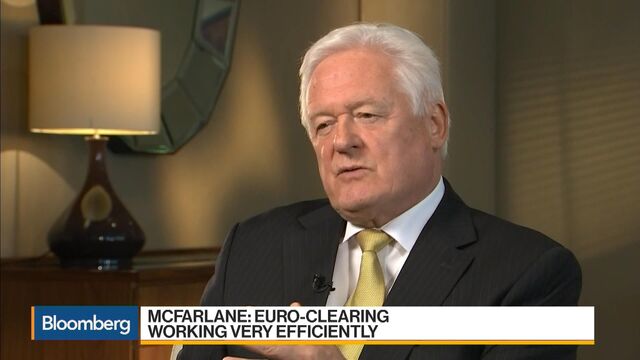 U.K. banking executives are starting to concede that shifting regulatory oversight of euro clearing -- a key battleground for the financial-services industry -- to the European Union after Brexit is the only way they'll keep the bulk of a $2.7 trillion a day industry in London.
"If the price is shared regulatory oversight, then it is a price worth accepting," John McFarlane, the chairman of Barclays Plc, said in a Bloomberg Television interview. Given the systemic importance to the continent, it is "not unreasonable" that EU authorities should be granted "some form of oversight" of euro-related activities within the U.K., he said.
"There is absolutely no other option possible whatsoever, for countries to get along and agree on an organized prudential financial regulatory framework," Xavier Rolet, Chief Executive Officer of London Stock Exchange Group Plc, which owns LCH Clearnet Group Ltd., said at a conference Thursday. "The current period of seeming increased fragmentation will in fact end up with more integrated financial regulation."
The tone from these executives contrasts with Britain's Conservative government, where most lawmakers are vowing to resist scenarios where EU institutions would maintain jurisdiction over anything post-Brexit. Clearing euro-denominated contracts has emerged as a key battleground, with French and some German leaders adamant it must return to the Continent from Britain, but shared oversight could be less disruptive for the financial system than splitting up Europe's dominant clearinghouse.
Blunt Talk
Bank executives and central bankers including Mark Carney have warned that could disrupt financial stability and impose financial burdens on EU-based companies. The business has been concentrated in London because it is more efficient for banks to hold all their swaps in one place. Clearinghouses collect collateral and stand between traders to prevent a default from spiraling out of control, and their role has become far more entrenched since the 2008 financial crisis.
Executives from Barclays, Britain's second-largest bank, have been less pessimistic than some of their peers about the disruption Brexit will cause to London's financial center. On Thursday, McFarlane was blunt on what he thought of moving euro clearing from London: "I don't think it will work," he said. "Nobody has asked for clearing to move from the business standpoint, because it's actually working very efficiently the way it is."
Short Timeframe
His comments were echoed by Catherine McGuinness, the policy chairman of the City of London Corporation, which administers the financial district. "We need to protect centralized clearing here in London, which makes it easier to net exposures and cheaper to post collateral," and "cherry picking" clearing would be a "huge risk," she said in a speech Thursday at the London Stock Exchange.
They are up against figures like Bank of France Governor Francois Villeroy de Galhau. He said two weeks ago that the power to force major non-EU firms to move their clearing business into the EU is the "only viable mechanism" to ensure the European Central Bank can manage risks to financial stability.
The tone of comments from the British financial world indicate growing concern that time is of the essence and negotiators need to start making progress as the two-year deadline ticks away. Banks and asset managers need certainty this year on how much time they'll have to transition to the post-Brexit world to avert "regrettable" decisions made in haste, Andrew Bailey, head of the U.K. Financial Conduct Authority, said Thursday.
McFarlane concurred. "Early agreement on transition is the single most important thing for the industry," he said later Thursday at TheCityUK conference."It is where we should apply the strongest political pressure."
— With assistance by Silla Brush, John Glover, Alexander Weber, and Trista Kelley
Before it's here, it's on the Bloomberg Terminal.
LEARN MORE