business
Brexit Bulletin: Deutsche Heads for the Door
By
Deutsche Bank to move parts of trading and investment banking to Frankfurt

City lobby group says it has plan to save finance from Brexit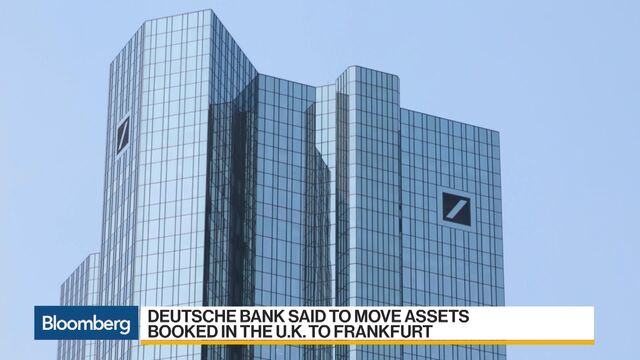 Sign up to receive the Brexit Bulletin in your inbox, and follow @Brexit on Twitter.
Banks are back in the Brexit spotlight.
In a blow to the U.K., Deutsche Bank is preparing to move large parts of the trading and investment-banking assets it currently books in London to its hometown of Frankfurt, people familiar with the matter told Bloomberg.

Germany's largest lender would relocate most of the business reported in London to a so-called booking center in Frankfurt under the plan, said the people. The strategy, which is still being finalized and would be reviewed if the Brexit scenario changes, will probably be implemented over the next 18 months, the people said.
"It's another milestone in what we call the Brexodus," said Gildas Surry of Axiom Alternative Investments, whose holdings include Deutsche's bonds and shares. "Every single continental European bank is working on plans to repatriate their trading and plumbing in their home cities."
How to limit such shifts will be a key topic at Thursday's annual meeting of TheCityUK, whose chief executive, Miles Celic, spent part of the week advocating for his industry in Brussels.
If the U.K. plays its cards right there is the potential for a Brexit deal that could still help finance generate £43 billion of gains for the economy by 2025, the lobby group said in a new study. That is less than under the status quo, and such a windfall would require agreement on market access and flexible immigration rules.
"In the absence of a deliberate strategy to counter the effects of Brexit and other challenges, the industry is expected to stagnate," said the report, produced with accounting firm PricewaterhouseCoopers LLP.
Clearing Confidence
One executive showing signs of bullishness is Barclays Chairman John McFarlane.
He told Bloomberg Television he's confident that despite recent threats from the continent, much of the trading, clearing and fund-management activity involving the euro will remain centered in London after Brexit.
"The right thing for the European Union and for the U.K. is to retain a significant proportion" of euro-related business in London, he said. "We're pretty confident that quite a degree of wholesale activity, even clearing activity, et cetera, fund management, will remain in the U.K. and London in particular."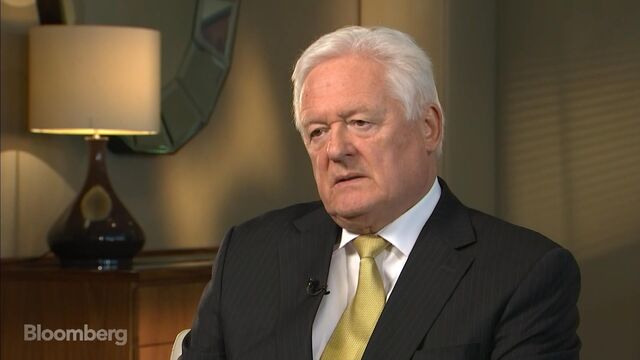 But there's still likely to be a fight, as the European Central Bank reiterated on Wednesday that central counterparties are "highly systemic, and the smooth operation of those clearing significant amounts of euro business is crucial for the fulfillment of the euro system's mandate as the central bank of issue."
For more on the debate over clearing, see Bloomberg's QuickTake Q&A
May Sticks With Austerity
Prime Minister Theresa May is sticking to her guns on austerity.
Under pressure from lawmakers, including some from her own Conservative Party, May on Wednesday refused to give in to calls to drop the pay cap for public sector workers.
Bloomberg's Alex Morales and Andrew Atkinson outline five reasons why the seven-year fiscal squeeze is now topping Brexit in the minds of U.K. voters.

Meanwhile, May heads to the Group of 20 meeting in Hamburg, where she will see U.S. President Donald Trump for the first time since disagreements over climate change and the London Bridge terror attack.
Brexit in Brief
Virgin Group founder Richard Branson says he's hoping for a "kinder Brexit" for business following the election
Standard Life's merger with Aberdeen Asset Management will strengthen its ability to deal with Brexit, Chief Executive Officer Keith Skeoch tells Handelsblatt
Investment firms may have to move thousands of jobs to the EU after regulators said "letterbox entities" nominally based in the EU but run from abroad will not be tolerated, lawyers and advisers say
Britain's dominant services sector expanded the least in four months in June, adding to evidence that the economy is weakening as Brexit negotiations start in earnest
Credit Agricole signs a six-year lease on offices in London, CityAM says
Chancellor of the Exchequer Philip Hammond is challenging Trade Secretary Liam Fox to prove that post-Brexit trade deals will compensate for leaving the EU customs union, according to the Telegraph.
And Finally…
The chairman of NEX Group bowed to pressure from shareholders and reimbursed the electronic trading and financial technology company for the £25,000 that it donated to five members of parliament contesting seats against Liberal Democrats in last month's U.K. election.
The NEX board, headed by Charles Gregson, approved donations of £5,000 each for five MPs who ran against pro-EU Liberal Democrats, according to a notice for the company's 2017 annual meeting. Shareholders objected.
"It is clear that a number of them are opposed to public companies making modest political donations, even when supported by a strong business case," the company, formerly known as ICAP, said in a statement.
For more on Brexit follow Bloomberg on Twitter, Facebook and Instagram
Before it's here, it's on the Bloomberg Terminal.
LEARN MORE