Banks, Tech Firms Are No Longer Biggest Takers of London Offices
By
Flexible office firms took record amount of space through June

Landlords face an asset-liability mismatch from deals: analyst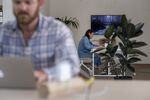 Co-working and flexible office providers have for the first time surpassed banks and technology companies as the largest source of demand for central London offices.
Hipster favorites including WeWork Cos. and The Office Group, acquired last month by Blackstone Group LP, leased a record 884,000 square feet (82,000 square meters) of workspace in the six months through June, according to data compiled by Cushman & Wakefield Inc. That's the equivalent of 18.3 percent of all the space leased in the period and surpasses the volume the firms agreed to occupy last year.
Growing demand for flexibility has resulted in a surge in demand for short-term leases as occupiers opt for a "wait-and-see" approach before making a long-term commitment to space. That's encouraging firms including The Carlyle Group LP and Blackstone to buy short-lease landlords as they seek to cater to startup companies and customers who need additional space for specific projects.
"Uncertainty in the U.K. leading up to Brexit means that many occupiers may want some flexibility in their office space capacity," Bloomberg Intelligence analyst Sue Munden said by email. "That demand for temporary lets is likely to rise."
The volume of space leased in central London rose 10 percent from a year earlier to 4.8 million square feet in the first half, according to Cushman & Wakefield. The demand from the flexible office providers helped keep the vacancy rate low at 5.8 percent at the end of March, according to Deloitte LLP, even though the firms then try to sublease the space.
The co-working firms are not the best tenants for landlords to lease to, according to Jefferies Group LLC analyst Mike Prew.
"The serviced office business model tends to lease long and retail short," Prew said by email. That "results in an asset-liability mismatch and is vulnerable as the London office market adjusts to the Brexit demand shock."
Before it's here, it's on the Bloomberg Terminal.
LEARN MORE