charted
Why Russian Inflation Feels Much Worse Than It Is
Russia has controlled surging inflation brought on by sanctions, but consumers aren't getting the message.
By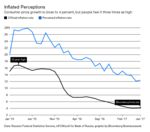 Russian Central Bank Governor Elvira Nabiullina may have won investor praise for bringing price growth under control, but she's yet to convince ordinary people used to double-digit inflation. A poll conducted for the central bank found consumers think the current rate of inflation is about 12 percent, three times the actual level. The disparity may come from the fact that low-income consumers spend a larger portion of their paycheck on food, which is more prone than other items to price spikes, according to Vladimir Tikhomirov, chief economist at BCS Financial Group.
Before it's here, it's on the Bloomberg Terminal.
LEARN MORE