Ukrainian Finance Minister Sees Next IMF Tranche in Autumn
By
IMF willing to exclude land reform for fifth aid transfer

Danylyuk calls conditions for this disbursement most difficult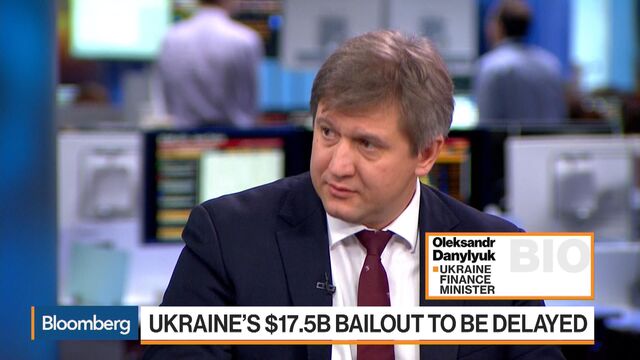 The next slice of Ukraine's $17.5 billion aid package from the International Monetary Fund is likely to arrive in the autumn, according to the nation's finance minister.
While the government is "aggressively" pursuing reforms, Oleksandr Danylyuk said that a required overhaul of farmland sales will probably take place after parliament's summer recess. The IMF said it's willing to exclude that reform from the list of conditions for the fifth tranche of financial assistance. But it will still require legislation to pass on pensions, privatizations and creating an anti-corruption court, some of which won't pass before the lawmakers' break.

"In September we'll continue" to push through the IMF requirements, Danylyuk said Wednesday in an interview in London. "Conditionality for the fifth tranche is the most difficult. After we do it, the next reviews will be much much easier."
Danylyuk's comments echo those of Prime Minister Volodymyr Hroisman, who signaled Monday in a separate interview that the latest aid disbursement was running behind schedule. While IMF financing has formed the foundation of Ukraine's post-revolution economic revival, the program has been dogged by delays as controversial reforms to reshape the former Soviet republic meet opposition. The latest transfer had been penciled in for June or July.
The land revamp, which would remove a ban on the sale of agricultural plots and determine who could purchase them, is vital to Ukraine's economic rebuilding, according to Danylyuk. The complexities post-communist ownership make it tricky to use other countries' legislation as a template, meaning "copy-paste doesn't work in Ukraine," he said.
The IMF indicated that it recognizes the difficulties.
"Clearly there are domestic differences over how to do the land reform," the lender's Ukraine mission chief, Ron van Rooden, said Wednesday in an interview in London. "We need further discussions with them to see how they want to do it. So for this upcoming review, we're willing to delay it to later in the year."
The size of Ukraine's next aid disbursement -- planned at $1.9 billion -- will be discussed "depending on the reform package," according to van Rooden.
Danylyuk, who's due to meet IMF Managing Director Christine Lagarde next week, said the latest aid delay wouldn't necessarily hold up an international bond sale envisaged under the Washington-based lender's program. Ukraine will decide based on market conditions, he said.
— With assistance by Guy Johnson
Before it's here, it's on the Bloomberg Terminal.
LEARN MORE