Photographer: Michael Nagle/Bloomberg
Pimco Income Fund Grows to $88.9 Billion as Inflows Continue
By
Ivascyn's mutual fund attracted a net $2.6 billion last month

Pimco Total Return Fund hit by more withdrawals during June
The Pimco Income Fund climbed to $88.9 billion in assets last month, extending its lead as the world's largest actively managed fixed-income fund, according to data posted on the firm's website Wednesday.
Investors added a net $2.6 billion in June to the Income Fund, according to Bloomberg estimates. The fund had net inflows of $15.6 billion in the first half of this year after $16.9 billion of new investment in all of 2016.
Bond funds have been winning cash amid speculation that U.S. stock prices may be reaching unsustainable levels as tax reforms, infrastructure investing and other pro-business policies under President Donald Trump fail to materialize. Investors moved more than $17 billion into taxable-bond mutual funds in the four weeks through June 28 while withdrawing about $15 billion from domestic equity funds, according to data released Wednesday by the Investment Company Institute.
The Income Fund returned 5.3 percent this year through July 3, outperforming 95 percent of its Bloomberg peers. Run by Dan Ivascyn and Alfred Murata, it became the largest actively managed fixed-income mutual fund in March, passing the Metropolitan West Total Return Bond Fund. Investors withdrew about $500 million from the $79.3 billion MetWest fund last month, according to Bloomberg estimates.
Outflows continued at the Pimco Total Return Fund. Investors pulled almost $600 million from the fund in June, Bloomberg estimates. The fund has been bleeding assets since April 2013, as concerns about rising interest rates and the acrimonious exit of longtime manager Bill Gross fueled redemptions.
'Reducing Risk'
Total Return's assets fell to $73.3 billion as of June 30 from $73.8 billion at the end of May, according to the Pimco website. The fund held almost $293 billion at its peak.
Pimco Total Return, now co-managed by Scott Mather, Mihir Worah and Mark Kiesel, returned 3.2 percent this year through July 3, outperforming 81 percent of its Bloomberg peers.
Pimco has been "reducing risk across the board," anticipating lower returns on financial assets over the next three to five years, Kiesel said in an interview Wednesday on Bloomberg Television.
Flow estimates are based on the change in net assets that aren't accounted for by performance. The numbers may vary from actual figures and from estimates compiled by other data providers.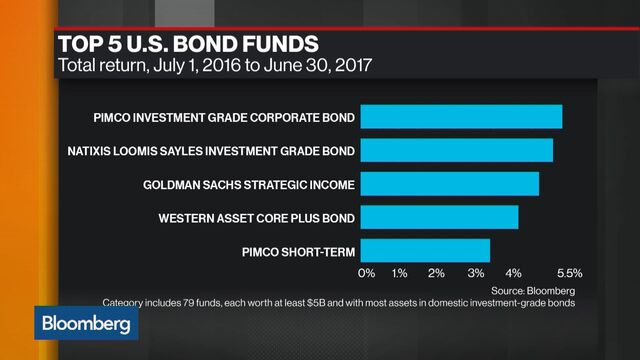 — With assistance by Andrew Bachmann
Before it's here, it's on the Bloomberg Terminal.
LEARN MORE