markets
Now Fed Officials Are Starting to Wonder If the VIX Is Too Low
By
Minutes to June 13-14 meeting showed concern on low volatlity

Yellen and others have said traditional valuation metrics high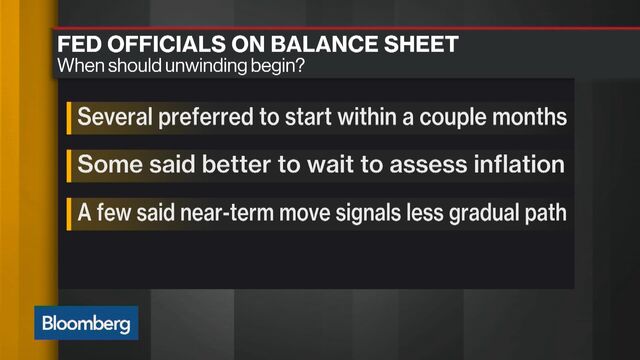 Wondering why three Federal Reserve officials were moved last week to make public pronouncements about rising asset prices? Evidently, it's because of the potential for a "buildup of risk to financial stability."
At least, that's one way to read minutes to the June 13-14 meeting, where a few participants expressed concern about "subdued market volatility" and higher valuations. While far from an obsession -- others said rising stocks simply reflect more risk tolerance -- concern about markets is taking a bit more shape of late among policy makers.
For a Fed that has spent half a decade fretting about mistakes that might lay stocks and bonds low, commentary is coming faster now about the danger of pushing them too high. As always, central bankers walk a fine line keeping stimulus flowing to the economy without blowing bubbles in assets.

"We're seeing this buildup of discussion about asset valuations -- it's starting to make sense what's going on," Stewart Warther, an equity and derivatives strategist at BNP Paribas, said by phone. "There's an increased focus on preserving financial stability through restraining excess in markets and jawboning and balance sheet reduction are the methods they're looking at."
By most measures, markets are calm and prices elevated. The CBOE Volatility Index averaged 10.5 in June, roughly half its historical average, while the S&P 500 touched a record on June 19 that represented a 19 percent annualized gain since it bottomed in March 2009.
It remains hard to get investors to care about any of this for an extended period. The S&P 500 was up 0.2 percent to within about 25 points from a record as of 2:54 p.m. in New York, trading at a P/E of 21.5. The Nasdaq 100 was up 1 percent, its multiple of 25.5 about 30 percent higher than its bull market average.
Fed officials have periodically cautioned investors about elevated prices over the last three years. Never has the impact lasted more than a day or two.
In May 2015, Yellen said stock valuations are "quite high" and could spur financial instability. The S&P 500 finished that week higher and rose the next two. In a report on monetary policy delivered to Congress in July 2014,officials said prices for smaller biotechnology and social media stocks were stretched. Equities also climbed that week.
"We have not yet reached the point that the FOMC could be viewed as an 'enemy of the market,"' Michael Shaoul, chairman and CEO at Marketfield Asset Management LLC in new York, wrote in a note to clients. "But stronger equity and credit markets are likely to encourage a faster path for rate hikes in the months ahead."
Before it's here, it's on the Bloomberg Terminal.
LEARN MORE