Norway's Housing Market Downturn Gathers Pace Amid Bubble Fears
By
Prices plunge 3.1% in Oslo in June as sellers rush to unload

Houses out for sale increased by 17% from a year earlier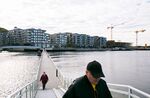 One of the world's hottest housing markets is now cooling fast, sparking concern that a bubble is bursting after the rapid price increases over the past years.
Average nationwide house prices fell seasonally adjusted 0.7 percent in June, declining for a second month, Real Estate Norway, Eiendomsverdi and Finn.no said Wednesday in Oslo. Annual nationwide gains slowed to 6.3 percent from 8.3 percent in May and to 11.5 percent from 16.5 percent in Oslo. In the month, prices in the capital plunged 3.1 percent.

"This is one of the weakest June months on record," Christian Vammervold Dreyer, the head of Real Estate Norway, said at a press conference. "The uncertainty is bigger than in a very long time."
Read more on Norway and housing
The housing market, which has been an economic bulwark against a crash in the nation's oil industry, is cooling after the government tightened lending standards, specifically targeting speculative buying in Oslo. Spurred by record low rates and surging home prices, households have amassed debt of more than twice their disposable income, making Norwegians among the most indebted in the western world.  
'Price Correction'
Sellers are now rushing to unload, which will pressure prices further as Norway heads into the summer holidays. The number of homes for sale rose 17 percent in June, led by Oslo.
"After price growth of more than 40 percent in just over two years, it's not surprising that Oslo is seeing a correction," Dreyer said. 
The group revised its estimate for price growth this year nationwide to 5-6 percent from 9-11 percent.
While the figures look "dramatic," Handelsbanken economist Marius Gonsholt Hov says he continues "to believe this is exaggerated" since the "Oslo market is probably plagued by some near-term uncertainty." 
"To argue for a collapse in the housing market in 2017, we should have argued that 2016 was a bubble," he said. "Or that the tighter rules for mortgage lending are biting too hard. But we are not convinced 2016 was a bubble."
For the central bank the downturn could be both a relief but also a fresh challenge. Policy makers last month signaled that they were done with cutting interest rates after keeping rates at a record low of 0.5 percent since March last year. Still, they don't plan to raise rates until early 2019. They have also admitted that concerns over surging house prices and rising debt levels have kept rates higher than otherwise warranted. 
Read more on Norway's latest rate decision
The bank last month also forecast a clear slowdown in house prices, but not a decline. Annual price gains will cool to 1.1 percent next year before picking up again, it said.
The decline in housing prices "is an argument for a later hike all else equal," said Erik Bruce, an economist at Nordea Bank AB, in a note. "We must however see a lasting and wide spread downturn before Norges Bank starts to fear the negative effects from the housing market on growth and, consequently, before it affects rates significantly."
Before it's here, it's on the Bloomberg Terminal.
LEARN MORE