NEX Chairman to Repay Company for $28,500 Political Donation
By
Decision comes ahead of NEX annual general meeting next week

Investor groups criticized company donations in U.K. election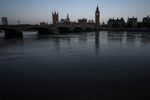 The chairman of NEX Group Plc decided after pressure from shareholders to reimburse the electronic trading and financial technology company for the 25,000 pounds ($28,500) that it donated to five members of parliament contesting seats against Liberal Democrats in last month's U.K. election.
The NEX board, headed by Charles Gregson, approved donations of 5,000 pounds each for five MPs who ran against pro-European Union Liberal Democrats, according to a notice for the company's 2017 annual meeting.
The donations irritated advisory groups such as Institutional Shareholder Services and the Investment Association, a trade body for U.K. fund managers. ISS, which often sways around 20 to 25 percent of investor votes at U.K. annual meetings, is advising subscribers to vote against granting authority for any more donations at NEX's meeting, scheduled for July 12. Gregson agreed to reimburse NEX from his own pocket after consulting shareholders and governance groups, the London-based company said Wednesday.
"It is clear that a number of them are opposed to public companies making modest political donations, even when supported by a strong business case," the company, formerly known as ICAP Plc, said in a statement.
Michael Spencer, the founder of NEX, is a large personal contributor to the Conservative Party.
"Shareholders are likely to question whether this was an appropriate use of their funds," ISS said in its briefing document sent to subscribers for next week's meeting. "The directors are free to contribute from their own funds in line with their individual inclinations."
The Investment Association also red-flagged its report, citing the issue of political donations.
— With assistance by Giles Turner
Before it's here, it's on the Bloomberg Terminal.
LEARN MORE